In the 60s Bob De Moor created several cartoons which have been published left and right, in bigger and smaller magazines. Most of these publications are close to unknown to most of you today and are often very difficult to trace back. It's also not always easy to find out where a drawing was actually published. In some cases it's not even possible to find back the drawings…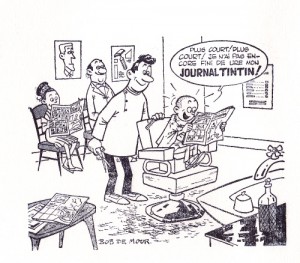 And that was the case with the drawing we present you today. The cartoon you see here comes from the mold used to print the cartoon in the actual publication. The original drawing might have gone lost or is now in the possession of a private collector who hasn't made it public. It was Olivier Marin who acquired this rarity and also him who made the print so we can show it to you today.
The cartoon is a publicity for the Journal Tintin and you can see the kid yelling: "Shorter! Shorter! I haven't yet finished reading my Journal Tintin!" The style used here is the same as the one we have shown you here and here and can be situated somewhere in the sixties, we presume it is after 1965.
There is a whole series of these cartoons which were published back then in a similar style. We'll present you a selection of these bit by bit. If you know where the cartoon originally has been used for, let us know!