When preparing drawings for his later Cori albums, Bob De Moor preferred to follow the same procedure as he did with Hergé when working on the Tintin albums, and that was to first prepare a case on a separate paper and then careful trace that copy onto another paper from where it was again traced to be put on the final page. Quite a time consuming way of working which Bob De Moor explained in a video which you can see here. It nevertheless helped to get the best possible drawing on the final page without having to start again way too much.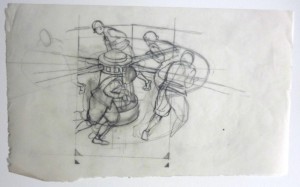 Today we present you one of these small tracing papers which Bob De Moor used to complete a case situated in the left bottom corner of page 4 of the Cori album "L'invincible Armada 2 – Le Dragon des Mers" (1980). We found the small piece of paper back in the archives of the family De Moor.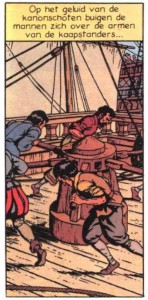 As you can see the drawing (inverted here as it was to be traced again afterwards to get it back to the original position?) was far from being finished. You can see the original feet positions which differ from the ones used in the final version, also the clothes are different and there eis no background. But on the whole the total concept of the case is already largely present with De Moor mostly being concerned about the manual capstan, as he was obsessed by naval precision in his Cori albums.
For those who don't know what a capstan is, it is a vertical-axled rotating machine developed for use on sailing ships to apply force to ropes, cables, and hawsers. The principle is similar to that of the windlass, which has a horizontal axle. The device is considered to be a Spanish invention.
We'll be digging up more of these gems of course.