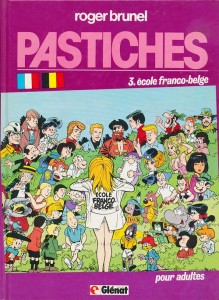 We all know the pastiche pages made by Bob de Moor, you can find some examples here, here, here, here and here (and there are more to come of course), but de Moor also was 'victim' of pastiches. A first one we show here is a Barelli pastiche made by Roger Brunel. It was published in the 3rd volume in the "Pastiches" series at Glénat Publishing back in 1984.
Barelli also appears on the front cover of the album next to many others such as Ric Hochet, Lefranc, Quick & Flupke, Natascha, Spike and Suzy, Benoît Brisefer and so on.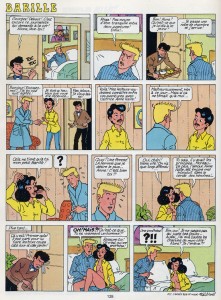 In the humoristic/erotic page you see Barelli (here renamed Barille or 'Keg' in English) meeting up with a journalist who is actually his (girl)friend Anne Nannah in disguise… with a strap-on. The reason for the strap-on is explained by Anne Nannah (her name actually means pineapple in phonetically French): "I wasn't sure about your sexual orientation so I made sure I was properly equipped for every situation". You'll also note Cori in the painting above Barelli's bed. Poor kid.
Roger Brunel (born 12 September 1944 in Valence, France) is a comic artist especially known for his pastiche albums with a humoristic/erotic side. He is also the artistic director at Glénat and also took care of the "Romans de Toujours"-collection which features well-known novels turned into graphic novels.