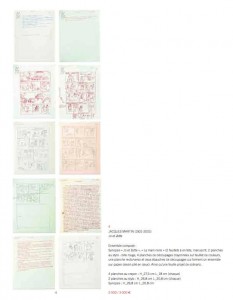 After Jacques Martin left the Hergé Studios he also took with him the material from the uncompleted Jo et Zette story "La main noire" he collaborated on with Bob de Moor. The lot ended up in an auction last year. Included in the set were 4 crayon drawn pages, 2 pages in red pen and the synopsis itself. The lot was up for auction at PB&A auction house in 2011.
It's not really clear if Martin actually had the right to take this uncompleted album with him (let alone sell it even) as it was a product by the Hergé Studios.
Good to know, de Moor also provided illustrations to the "Le Nain noir" by Scott Walter. Coïncidence?
Note that amongst the other lots on offer we also found back the notorious gag page which the members of the Studio once produced to make it appear that they were writing a Tintin book while Hergé was away.
Let's see if Musée Hergé will do something with this.