A few weeks ago we presented you the first and second article in a series of articles that will treat the genesis of the 1988 album "Barelli in bruisend Brussel". The assistant of Bob De Moor for that album was Geert De Sutter, who took care of the background/decors in the album. Since both men only had a few months to complete the album they had to work rather fast. To get the work done in such a short time, Geert De Sutter decided to get himself a Polaroid camera and use that to sketch the decors.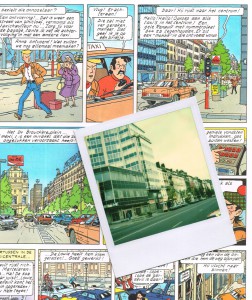 Today we will handle a detail from page 15 and more precisely the 3rd case on the page. The metro station entry has in the meantime changed, and despite going through Google Street View (the Anspach Avenue) we haven't been able to locate the current spot (and Geert De Sutter couldn't really remember, after all it's more than 27 years ago). If you know where this picture was taken, let us know.
The 3rd case in which the polaroid was used as documentation has an interesting detail, the traffic light. The colourist actually made a small error. If you look well, you'll see that the traffic light has the red light in the lowest position whereas it should be placed in the highest position. Colourist for the album was Hanelore Vantieghem, we tried reaching her for some feedback on her overall work on the album but to no availability so far.
We also present you the 2nd strip from that page which is already partially inked (by Bob De Moor), Geert De Sutter would then ink the decors and send the page back. We are able showing you this because Geert De Sutter took scans of each step of the working procedure.