During the 60s and 70s, Lombard would publish several collections at a rather moderate price. The low price also had as a result that the French versions didn't come in the normal hardcover versions but – very unusual on the French speaking bookmarket – in a cheaper paperback version. The stories were often also shorter, 32 instead of 44 pages.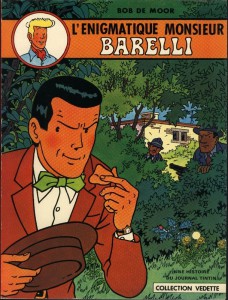 In the Collection Vedette, released between 1970 and 1977, Lombard would present 50 titles. It was a follow-up to the Histoires du Journal Tintin collection. A few authors only saw a release of their albums in this format and thus never saw a hardcover release. Nevertheless, the collection holds several pearls and this not only from Bob De Moor's Barelli but also from Mitteï (Les 3 A), Uderzo (Oumpah-Pah ), Dupa (Chlorophylle), Greg (Rock Derby), Attanasio (Spaghetti), Tibet (Le club des Peur-de-rien), and so on. In short, it would be rather short-sighted to consider this collection to be the graphic dustbin of Lombard.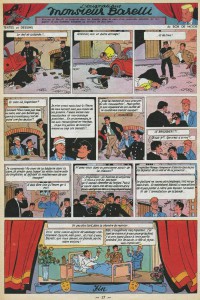 One of the Barelli stories published in this collection is the 1976 paperback "L'énigmatique Mr Barelli", originally published in the Journal Tintin in 1950 – 1951 and in 1956 in album format.
This 1976 version stays faithful to the original version and thus holds 14 pages less than the later released versions in the 80s. The 14 extra pages were added to fit Lombard's new album concept demand. The original last page from that 1950/1951 story is the one you see on the left. We'll get back on all these differences later on.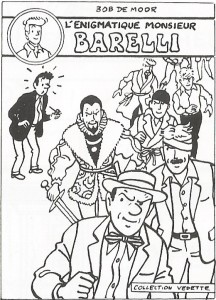 But let's get to the point of this post. Bob De Moor would create several cover projects for the release of this particular album in 1976, and more than just one design would make it in album format one way or another (the 1980 version is different from the 1976 one for instance). But one project never made it to publication and that's the one we present today (thanks Alain Demaret for the hint!). The cover shows Barelli in various disguises including The Merchant of Venice – he is an actor after all – with Inspector Moureau looking quite surprised. Perhaps this project looked a bit too disturbing or unclear, so it never made it to the next stage.
A small print of this cover was released in the big-sized "Le Lion de Flandre" released by Éditions Michel Deligne in 1976. This proves that the drawing indeed comes from the very same session as the final artwork for this 1976 Collection Vedette album.