In 1985, the publisher De Dageraad would release Magnum 50, aka the Snoe & Snolleke story "Het Betoverde Zandtapijt". This was the 10th story of the series which originally was published in Nieuws van de Dag from May 26 1954 until September 11 1954. The story would only be released once in album format, namely in the Magnum series, and would also be the very last Snoe & Snolleke to be released via De Dageraad (which by then had already slowed down its publication rhythm).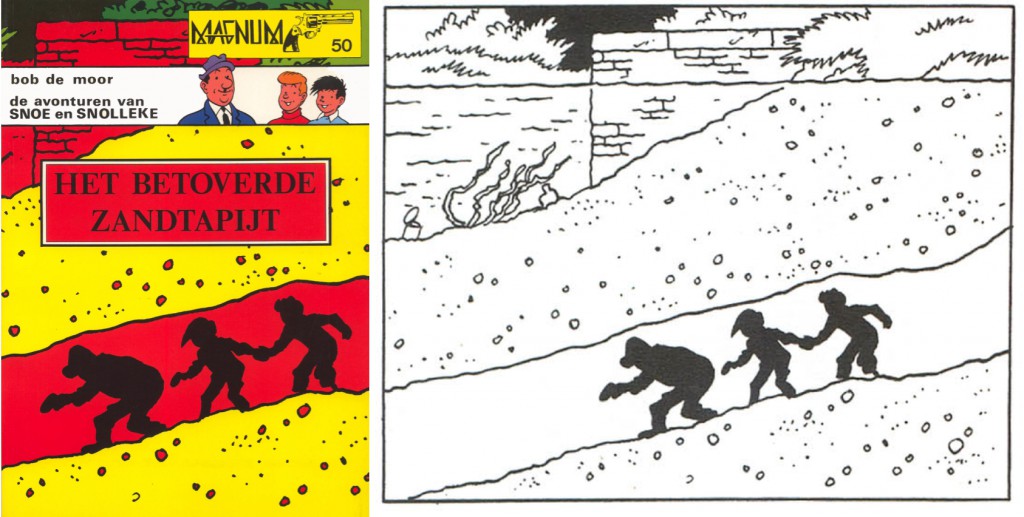 But there are 2 things that are quite interesting about this album, apart from a lot of cheek in tongue ingredients: the cover and the presence of 4 redrawn strips in the back of the album as a (nice) extra.
Let's first check the cover. At first sight you'd think that Bob De Moor didn't really bother to make an appealing cover, however, it's actually not a cover drawing at all, but instead the enlarged first frame of strip 174 completed with 'vivid' colours plus – you have to look really well – some extra 'retouches' here and there (check the bushes in the top center and the brick right under 'Snolleke'). Did Bob De Moor add those changes? We doubt it. The album itself says that the albumcover was created by Bob De Moor… and Toine Cools, probably the lay-out guy who did his best to find a decent cover since De Moor obviously didn't provide a drawing. We asked Johan De Moor if he remembered why there hadn't been a normal cover drawn for the album, but he had no idea.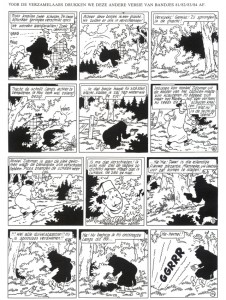 Now let's jump to the second odd thing in this album. In the back you find a redrawn version of the strips 81 till 84. Graphically it's not very different, although the way the shoes are drawn clearly indicate this is Bob De Moor anno 70-80 at work. But if you look at how the action is shown, a few things have changed. Case 1 of strip 81 sees the action inverted (creating a more readable composition), the same happens for the 2nd case in strip 83 where Uncle Zigomar is now looking to the right (again creating a more readable composition). At the end of strip 84, the scream now goes outwards the page, again to keep the flow of the action going in the correct reading direction.
There is a little bit less black used here and there but there's also some added, see for example the 2nd frame in strip 81. A version meant for a coloured version of the album? Unlikely, Bob De Moor would never redraw complete pages if there weren't obvious reasons (also see these articles on "De sigarillos van koningin Thia" and "Het Mollenrijk"). The page we present you here had no reason whatsoever to be redrawn except for some compositional reasons.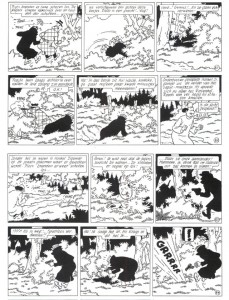 So we presented Johan De Moor another theory, what if this page was meant as a test page for a complete redrawing of the Snoe & Snolleke series to show what was possible? Johan De Moor: "That's indeed possible, I presume Bob quickly realised that this would be too much work. You know, this wasn't all that strange, because many artists wanted to redraw their old material. But just like other short lived projects, this was never finished and so we ended up with the coloured albums with cleaned out black backgrounds and very minimal corrections. Having said that, you mustn't underestimate the work that had to be done when correcting the black parts in the pages, it was very time consuming."
Bob De Moor would start work on the re-edition of the Snoe & Snolleke albums via Rijperman and Casterman around that time. Weirdly enough, the album would never see a reprint via Rijperman, Casterman or De Standaard Uitgeverij.