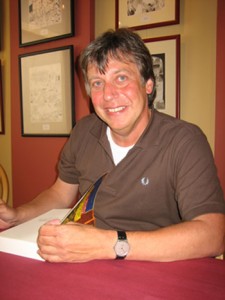 The author of the Bob de Moor Biography "De klare lijn en de golven" (Eng: "The clear line and the waves"), Ronald Grossey, will be interviewed for the Bob de Moor Facebook page and website. If you have (a) question(s) for him after reading the book (or perhaps even if you haven't read it yet), post it below in the comment field. The best will be picked out. Deadline: Sunday 6 April 2014!
The book is still available right here, but be quick.
For your info, Ronald Grossey, scenario writer of many comic series and author of several children books, also wrote the since long sold out 454 page counting book "Studio Vandersteen: Kroniek van legende 1947 – 1990". That book is now considered to be the bible when it comes to Willy Vandersteen. As we reported before, the Bob de Moor book is also a must have in your book collection!