Update: we published an article with plenty of comparative info on the different versions which have been published.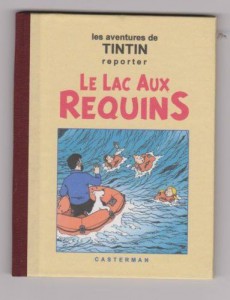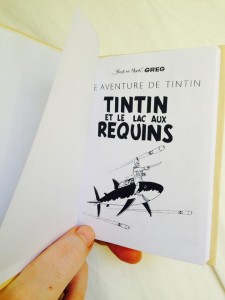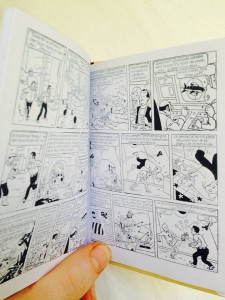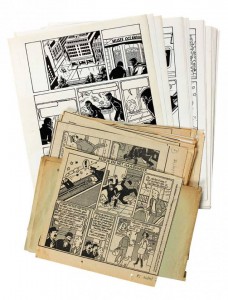 One of the items which many Bob de Moor fans are looking for is the black & white version of the " Tintin and the Lake of Sharks" album. Almost impossible to find on paper (here's a pirated item on eBay for instance : http://fave.co/Q6GjWT with cover artwork by Yves Rodier) the comic was quite different to the later officially released album of the film – which used the celluloid backgrounds with de Moor's drawings on top. For the black & white version de Moor actually drew the backgrounds as well + it holds manual lettering (the same lettering appeared in the coloured Tintin magazine version based on the celluloids of the film).
The whole black & white version kept things closer to the Tintin world than the album released by Casterman. Alas it was never commercially available and was only published in the french written Belgian newspaper Le Soir, in the dutch written Belgian (and not Dutch like every website says) newspaper Het Nieuwsblad, the dutch comic magazine Pep (colored) and in France-Soir in 1972-1973 and that's where the pirated versions are based on. Note that most pirated copies use the Flemish version or the France-Soir one because the prints were way better quality than the Le Soir version (they were still using the presses dating back from before WW2 one would think…).
We got hold of one of these pirated versions (size 10 x 15 cm, yes that is SMALL) based on the France-Soir version which gives a good idea of how that album looked like. Next to it we also added a picture of some of 44 clippings from Het Nieuwsblad that were sold recently on a Piasa auction for 153 €.
Note that there is also a coloured version out of this black & white album which takes the Flemish Het Nieuwsblad printed drawings from de Moor with the French lettering from the finally released album. As a result, the final drawing for instance shows "Einde" instead of "Fin". It's a pirated version after all .