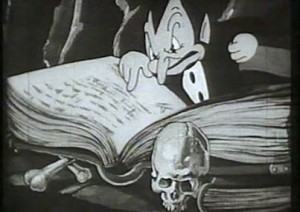 Did you know that besides Bob De Moor another young Flemish cartoonist started working at the cartoon filmstudio AFIM? His name: Jef Nys ( Jommeke, De Kapoentjes, Langteen & Schommelbuik). He collaborated on the 12'25 cartoon "Smidje Smee" (animation about the legend of a blacksmith who sells his soul to the devil – see the image below), together with Bob De Moor in 1942, although Nys is not always credited in the info available on this short animation film.
Nys only stayed for a very short time at the AFIM studios: after 4 days the principal of the academy warned him he would be expelled if he didn't return right away to the academy instead of wasting his time at the AFIM studios like that other bohemian De Moor… Nys left while De Moor stayed but after a V-bomb destroyed the academy's garden the institution got closed and Nys started working for the Antwerp based architect Maurits De Vocht. The rest is history!
The short film is still being shown here and there at festivals. We haven't been able finding a copy yet.
The animation studio AFIM was founded in Antwerp in 1940, by Ray Goossens together with Jules Luyckx and Henri Winkeler. They created a number of short animated movies, of which "Smidje Smee" (1942) was the most successful. 3 other cartoons included "Rapi Roum and Metamorfose" (1940), "Hoe primmeke ter wereld kwam" (1941) and "De lamme maakt een ritje" (1947).