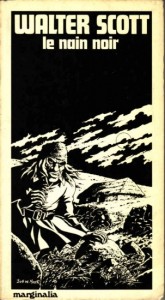 A while back we found a few copies of the Bob de Moor illustrated book "Le Nain noir" ("The Black Dwarf") by Walter Scott on Amazon
. This 184 pages counting book was released in 1979 by les Editions Jacques Glénat holding a translation of the original english text by Albert Montémont.
The little book with the Bob de Moor artwork was published in the Marginalia series under the artistic direction of François Rivière. Other artist which were invited to make coverart for books in the Marginalia series include Moebius, Gotlib, Tardi, Franquin, Floc'h (Floch), Andréas, Solé, Winiger, Glass, Brun, Serre and Brunel.
The ink drawing delivered by de Moor offers a very dark view on the story, in a style that is that of the 4 last Cori albums. The black color is omnipresent and you notice that de Moor is a king when it comes to playing with shadows.
Sold originally for 2,74 € you can still find it pretty cheap on Amazon
. This Walter Scott novel was part of his "Tales of My Landlord", 1st series, published along with "Old Mortality" on 2 December 1816 by William Blackwood, Edinburgh, and John Murray, London. Originally the four volumes of the series were to tell separate stories, but "Old Mortality" came to occupy three of them.
So what about the plot? It is set just after the Union of Scotland and England (1707), in the Liddesdale hills of the Scottish Borders. The main character is based on David Ritchie, whom Scott met in the autumn of 1797. In the tale, the dwarf is Sir Edward Mauley, a hermit regarded by the locals as being in league with the Devil, who becomes embroiled in a complex tale of love, revenge, betrayal, Jacobite schemes and a threatened forced marriage.
The book itself is although readable, not exactly the best work from Walter. And also back in 1816 the critics and public found it poor in comparison with its popular companion "Old Mortality". One of the harshest reviews was published in the Quarterly Review. It was written anonymously by Scott himself.
Nevertheless, a must have for Bob de Moor collectors.