From issue 14 on (1947), the weekly youth magazine KZV aka Kleine Zondagsvriend started publishing the stories from Hobbel & Sobbel. Unlike many other older series from Bob De Moor, this one was – just like Bart de Scheepsjongen – partially published in colour (and partially in grey tones and partially in black and white) when it appeared in the weekly magazine. It would however never be edited in colour (when applicable) in album format. And that's a pity because those original coloured strips have their charm.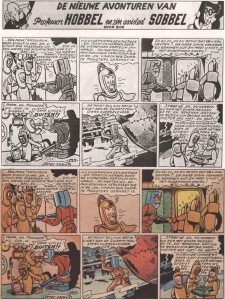 The example we show you today was originally published in KZV issue 3 (on the frontage) which appeared on January 20th 1949. The only time this story saw a reprint was when Brabantia Nostra released its 'Bob De Moor Reeks' holding the Hobbel & Sobbel adventures in 2 volumes (3 & 4). Alas, the albums were – due to financial reasons – printed in black & white and thus the coloured pages of Bob De Moor's early work were hidden under a grey mist.
In the example on the left we compare both versions. On top you see the black & white version as published by Brabantia Nostra in the 4th volume of their Bob De Moor series in 1983. Underneath you see the coloured version which we scanned from the original KZV publication.
Needless to say that the latter is superior in clarity and quality than the Brabantia Nostra one and this without any additional digital cleaning being done. But it would be a bit too easy to point the finger to Brabantia Nostra, because today's scanners are superior to what this Dutch editor had to work with and it's after all thanks to this Dutch editor that many can still enjoy this early – and still quite enjoyable – work by Bob De Moor.
Note also that the original drawings and films of this series have gone lost forever (that was already the case in 1983), which means that the pages which De Moor had coloured for KZV but which were published in grey tones in said magazine can never be restored to their original colouring as De Moor had intended it. Nevertheless, let's hope that this long forgotten series will see a reprint soon in the quality it deserves because even when not coloured, today's scanners can do a superior work to the scanners from the early 80s and some digital cleaning can restore this series to its intended glory.