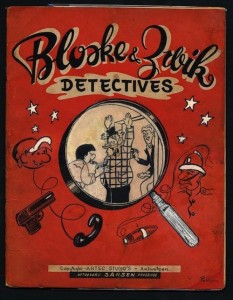 In 1949, publisher Sansen in Poperinge released a comic by Bob De Moor called "Bloske en Zwik, detectives". The story itself had been pre-published in 't Kapoentje, in colour, from December 6th, 1948, until April 28, 1949. Today, 65 years later, this first and only edition is yours for a mere 1.000 to 1.500 €. Needless to say that it isn't one of the most sold items on eBay and related websites. As a result, not many of our visitors will have read this album, and it thus remains one of those stories that definitely demand a reprint.
Although it's pretty sure who made the drawings, Bob De Moor, it's not very clear who wrote the script for this story. According to an interview Karel Driessen had with Bob De Moor, the scenario was by journalist Gaston Durnez. Flemish journalist and writer Gaston Durnez (who would work with Bob De Moor on a comic based on the life of Jean-Baptiste de la Salle in 1949) was also a good friend of comic author Marc Sleen and worked on some Nero material where he introduced… Detective Van Zwam.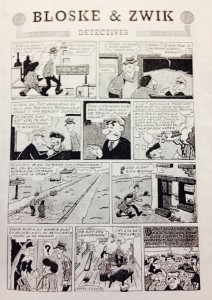 So Durnez was very familiar with the writing of scenarios for this type of comics. It's not that weird if it turns out that he also wrote a detective story for Bob De Moor. However, the comic was created via Artec Studios (credits for the Sansen edition which you can see on the image of the cover clearly show this), the company Bob De Moor had set up with his brother-in-law John Van Looveren. Van Looveren did both the business part and some script work. It's actually possible that Bob De Moor mixed up some facts in the interview we refer too, and that the scenario was by John Van Looveren instead. We'll try to get this sorted out and will update this article accordingly.
Not many pages of this story are known to a wider public, we picked out a scan from the 't Kapoentje issue 53 from December 30th 1948. And now fingers crossed that this rarity gets re-released!