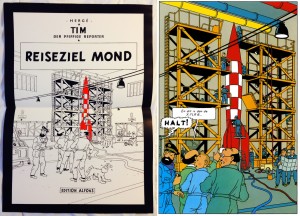 In issue 15 of the German comic info magazine Comic Reddition released in November 1989, the publisher added a 2 colour poster of a cover by Bob De Moor for a Danish and American  edition of the double album collectors' edition of "Destination Moon"/"Explorers on the Moon".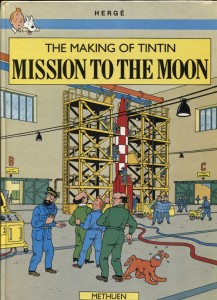 The drawing was made in 1985 and is based (not traced!) on the last frame from page 15 of the album "Destination Moon" where Tintin and co check out the unmanned sub-scale prototype of the rocket — the "X-FLR6" (resembling a V-2 rocket). De Moor was assisted by Pierre Gay on this one. The latter took care of parts of the decor. As you can see, the drawing itself differs quite a bit from the original; the whole drawing is bigger to start with (but that was clear already, wasn't it ?).
On the left you can see the colored version used for the New York Methuen Children's Books 1989 edition.  This edition also included a full colour section on how these 2 adventures came into being.
Here are some changes/differences:
Tintin has a different pose showing his left arm completely,
The right arm of engineer Frank Wolff is visible completely now, and as you can see, he stands on Snowy's space suit
The complete head of Professor Calculus is visible,
Captain Haddock has been placed more to the left and has a slightly different pose,
Bob De Moor corrected an error in the original drawing where no screws were visible in the scaffolding (bottom left)
The scaffolding is completely re-designed. Then again, it was De Moor's favourite hobby at the Studio Hergé when he arrived and started working on this album…,
A colouring error entered the game, though; the lower part of the rocket is partially white whereas it should be red,
The 'chariot' seen on the left from the two engineers holding a map, has been replaced by more modern looking equipment,
Bob De Moor added white to distinguish better the electric cables in the air, plus, he drew the cables on the ground differently.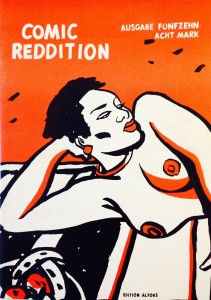 The issue of this magazine also gave some more info on Bob De Moor's involvement in the studio plus a picture of Bob De Moor during the opening of the CBBD (Centre Belge de la Bande Dessinée) in Brussels, Belgium, and a drawing which he made to depict Tintin surrounded by reporters (we'll show that one later). Furthermore you'll find extensive articles on Enki Bilal, Jacques de Loustal, and part 6 of 'Hergé's Universum' including the (German written) letter by Bob De Moor to the staff of the magazine confirming that it is indeed Edgar P. Jacobs you can see on page 40.