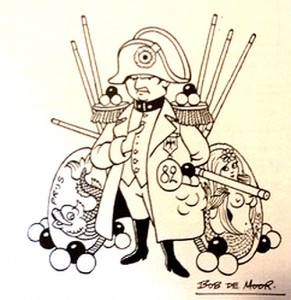 In the 70s a series of supporters of the Flemish comic world started organizing events and publishing magazines. The eccentric comic fanatic Karel Driesen (often misspelled with double 's') was one of those (colorful) people. Driesen, a close friend of Willy Vandersteen, started 'Stripcentrum Karel Driesen' through which he published several magazines (and albums) such as 'Guust', 'De stripwereld van Gaston' and 'Stripwereld'. Today we tackle issue 15 of Guust magazine which was published on May 26th 1979. The magazine which was launched at the end of 1976 (and ran until 1979 if we are correct) also ran a comic award event called 'Dolfijn' (Dutch for 'dolphin' but also referring to the word combination 'dol fijn', meaning 'very pleasing'). Driesen asked Bob De Moor to create a cover for the issue handling the 1979 award.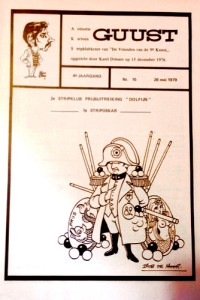 On the cover you see Napoleon surrounded by billiard balls and cues next to sea related artifacts. Only insiders know the complete meaning behind this cartoon. The why for the Napoleon is one we quickly found out, as Driesen always referred to himself as being the 'Napoleon of comics'. But the billiard balls and cues? That's where Hec Leemans (Bakelandt, Nino, FC De Kampioenen, …) helped us out with a possible explanation. As it happens those notorious award 'shows' by Driesen always took place at the Billiard Palace (a theatre/bar back then, now a hotel), close to the Central Station in Antwerp. We actually found back an article in which he indeed refers to that place, so spot on for Hec.
Speaking of Hec Leemans, he once received such an award as well together with Paul Geerts (Spike and Suzy). As for the '82' on the chest of Napoleon, we have no clue what it refers too, if you know it, please contact us. Sascha Van Laeken informed us that the number 82 in the drawing refers to the word record playing billiard won by… Karel Driesen. He played for 82 hours non-stop.
The mermaid and fish of course refer to the literal meaning of the Dutch word 'dolfijn', meaning dolphin. To end, you can see a cartoon of Driesen made by Marc Sleen in the left upper corner. It acted as the logo of the magazine for that year.
If you have a good quality scan of this cover, please contact us.