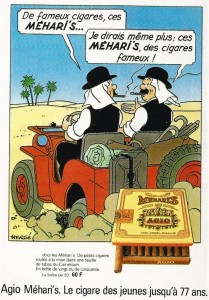 Bob De Moor was a chain smoker, and so was Hergé, so it wasn't really a surprise that in 1977 an advert turned up where Thomson and Thompson were smoking Méhari cigars. Truth be told, Hergé was furious that the agency had added the line 'Le cigare des jeunes jusqu'à 77 ans' without his consent.
The publicity also enraged Tintin/Hergé fan (think 'idolizing') Stéphane Steeman to the point that he demanded that Hergé give him a drawing for an anti-smoking campaign he was involved in. Hergé would turn down the 'offer', or at least would never contact Steeman regarding the matter, nor would he send Steeman a drawing.
After Hergé's death, a crayon drawing was found in the archives, where you can see one hand offering a cigarette and the other saying 'thanks but no'. The text in the drawing reads 'Sois un homme, ne fume pas' (Eng.: Be a man, don't smoke). The idea itself was never used.
However, the Hergé Studios did get a request for an anti-tobacco campaign. So Bob De Moor created a sticker design, to be used by the not-for-profit 'Antitabakactie' in Belgium. Detail, the bi-lingual sticker features the French word 'cigarette'.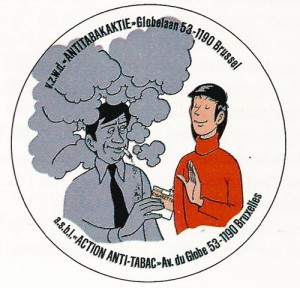 You can see the sticker on the left. The item was – if memory serves us well – on display at the superb exhibition "Tout Hergé" during the summer of 1991 in Welkenraedt, Belgium.
Note that to some it might look a bit odd to see that the person on the right stands in front of the person on the left offering a cigarette. You'd expect the packet of cigarettes to be in front of the red pullover. However it's meant to enforce that the non-smoker is really against anything smoking related and the man offering the cigarette is actually not part of the front scene, but only of the (smokey) background.
By the time Hergé had drawn the initial crayon design, he had stopped smoking already. Bob De Moor from his side would continue to smoke for several years more, just like many other comic authors. Bob De Moor died of lung cancer August 26, 1992.