In 1962 (1963?) Bob De Moor was asked to take over the popular French Bécassine series. Although he completed several test drawings, Hergé objected to Bob De Moor's plan to pursue the series. Eventually, Bob De Moor would decline the offer (pressured by Hergé).
This morning Luc De Meulenaere, husband of Annemie De Moor (daughter of Bob De Moor), sent us one of these test drawings to showcase how Bob De Moor pictured the famous Breton maid.
The drawing has never been published before and was until now totally unknown to many. Ronald Grossey did mention the existence of these drawings in his recently released biography on Bob De Moor, on page 195. But the first mention was in the 2011 book "Kinderen van Kuifje" (Eng.: Children of Tintin) by Toon Horsten, on page 51, where Annemie and Johan De Moor evoke the drawings.
As you can see here, the drawing shows a master hand at work, with the typical Bob De Moor rock drawings (which Hergé and Jacques Martin also incorporated in their work). De Moor clearly modernized the world of Bécassine style-wise and unlike what Hergé thought would have probably turned it into a successful series. You'll also notice the very warm coloring which reminds of the one used in the Tintin albums.
But who was Bécassine?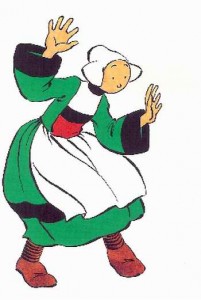 Bécassine is a comic strip and the name of its heroine, appearing for the first time in the first issue of La Semaine de Suzette on February 2, 1905. Its style of drawing, with lively, modern, rounded lines, would inspire the 'ligne claire' style which Hergé 25 years later would make popular in The Adventures of Tintin. Initially made as filler for a blank page, the story, written by Jacqueline Rivière and drawn by Joseph Pinchon, was such a success that new pages regularly appeared, still in the guise of page fillers.
Only in 1913 did Bécassine become the heroine of more structured stories. Still drawn by Pinchon, the stories were then written by Caumery (pseudonym of Maurice Languereau), one of the associates of Gautier-Languereau, the publisher of La Semaine de Suzette. At that time, the character's real name was revealed to be Annaïck Labornez, her nickname coming from her home village, called Clocher-les-Bécasses.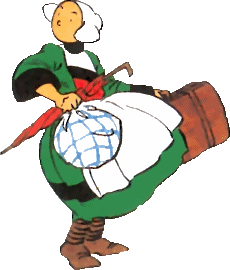 Between 1913 and 1950, 27 volumes of the adventures of Bécassine appeared. Pinchon drew 25 of them, and Edouard Zier the other two. All 27 were credited as being written by "Caumery", but after Languereau's death in 1941, the pseudonym was used by others. After Pinchon's death in 1953, the series continued with other artists, most notably Jean Trubert beginning in 1959. Trubert would complete 3 albums: "Bécassine revient" (1959, text by Camille François), "L'Alphabet de Bécassine" (1961, text by Vaubant) and "Bécassine mène l'enquête" (1962, text by Camille François). It was at this point that Bob De Moor was asked to take over the series.
After a decline in popularity, Bécassine regained prominence due to the hit single "Bécassine, c'est ma cousine" ("Bécassine, she's my cousin") by Chantal Goya, which sold over three million copies in 1979. It has been replied to by the Breton guitarist Dan Ar Braz with the song "Bécassine, ce n'est pas ma cousine" ("Bécassine, she's not my cousin").
Some details:
She is the first female protagonist in the history of comics
"Bécassine" is a nickname, derived from the French word for a number of birds of the family of the snipe, which is also used as a way of saying "fool" in French
Bécassine was translated for the dutch market as "Toosje Tontel" (yes, we know, a horrid name)
More info can be found at http://becassine.voila.net
42 albums would be published including special non-series and collectible small format albums