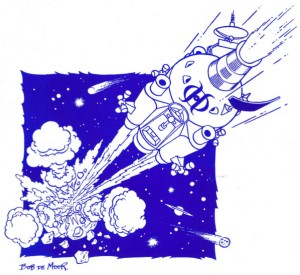 On June 4th, we published the article Bob De Moor goes SF with "War in the universe", about the Bob De Moor science fiction story – "War in the universe" (Original Dutch title: "Oorlog in het heelal") – which ran in issue 34 1949 of the weekly youth journal Ons Volkske. As we pointed out then, the story clearly was influenced by Edgar P. Jacobs' magnificent "The U Ray" which was published in the weekly Bravo magazine in 1943, both regarding the style and (especially) the story.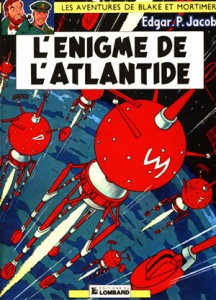 De Moor was very aware of this particular influence for this album and clearly wanted to acknowledge it so many years later when he created a 'cover' for the reprint of this 1949 story in the comic magazine CISO in 1971. The cover, more an accompanying image, will remind of that other Edgar P. Jacobs album "Atlantis Mystery" (original French title "l'Énigme de l'Atlantide") in the Blake and Mortimer series… Tongue in cheek of course. Sure thing is that it is way better than the clumsy one which the french written Comics 130 magazine would create for their reprint as you can see here. Note that the space ships in Jacobs oeuvre are taking off while De Moor's seems to be landing.
Also – and this might seem to be far fetched, but the letter used on the rocket in De Moor's drawing seems to be refering to Ω, the greek letter Omega, while Jacobs' rockets hold a more stylished ω, also Omega. Coincidence?
This pretty short 32-page story could benefit from a reprint with extended documentation as it was the story he worked on just weeks before officially joining the Studio Hergé to work on "Destination Moon".