On September 22nd 1990, Christiane De Meulenaere & Charly Collin married and especially for the occasion Bob De Moor created a drawing which was used to congratulate the newly wed couple. The connection with the family De Moor is the following, Christiane De Meulenaere is the sister of Luc De Meulenaere, husband of Annemie De Moor, daughter of Bob De Moor (thanks to Luc for clearing that one out)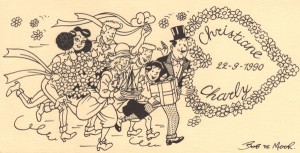 We found the invitation back in the archives of Olivier Marin (yes, it's a name that will pop up regularly as his has quite a nice collection of rarities concerning Bob De Moor).
On the drawing we find Barelli and Anne Nannah; Cori; Snoe, Snollke and Oncle Zigomar. While Barelli has a ribbon with two hearts in his hands (having the letter C printed on both), Anne Nannah is carrying a bouquet of flowers. Cori decided to bring along a small miniature ship and Snoe & Snollke carry a present. Oncle Zigomar from his side is holding a huge heart shaped garland decorated with flowers and the inscription Christiane 22-9-2-1990 Charly. Missing are Monsieur Tric and Balthazar.
The drawing was signed Bob De Moor and is quite a rarity, so if you find one, don't miss the opportunity to get one for your own collection!