Two weeks ago you could read about a Journal Tintin publicity cartoon created by Bob De Moor. The cartoon presented on our website came from the mold used to print the cartoon in the actual publication. It was Olivier Marin who acquired this rarity and also him who made the print so we were able to show it to you.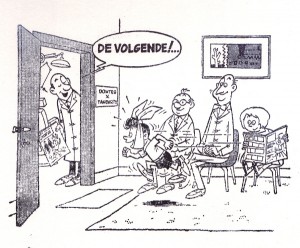 Today we present you a second cartoon, again taken from a mold which Bob De Moor collector Olivier Marin saved from destruction. The cartoon is, unlike the previous one, in Dutch, and was used to promote Kuifje, the Flemish (Dutch written) counterpart of the French written Journal Tintin. In the drawing you can also see Monsieur Tric sitting in the dentist's waiting room next to – surprise, surprise – smiling people. Unlike what you'd expect, they don't show any fear because their dentists has the (latest?) issue of Kuifje ! Speaking of a unique selling proposition… You can also see a kid rushing into the dentist's 'operating theatre' after the dentist says "Next!".
As you can notice there is no signature present on this print, and it wasn't present on the mold used either. Weird.