"Le Repaire du loup" was the 4th volume in the Lefranc series by Jacques Martin, but unlike the first 3, this 4th volume was drawn by Bob De Moor. Pre-published in the Belgian Journal Tintin between April 21st 1970 and 8 September 1970 it was finally published in album format in 1974 by the Belgian editor Casterman.
This year, 41 years later (!), the French editor Ludovic Gombert will release a 'remastered' big format (28,5 x 38 cm) of this album, limited to just 250 copies! The re-edition will be published in black/white. The full technical info can be found here.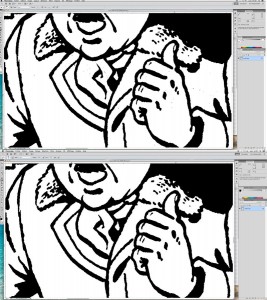 When we say 'remastered', we mean that every page will have been cleaned in order to offer you the best possible printing. To show you how the editor will proceed, we received 2 examples showing you in detail what this 'remasterisation' will entail. The first detail is a drawing and as you can see the first picture shows some artefacts while the second has been cleaned out completely. This is a manual job, which means lots and lots of work hours to get the job properly done.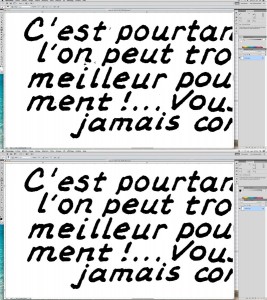 The second example shows a text balloon, before and after, and again you can see that there is a lot of working being executed right now to give you the best possible printing quality. Expect the album to be ready by the 2nd trimester of 2015 with a price of 99 Euro. We'll post pre-order links when the become available.
The other volumes are planned to follow in chronological order later on, but more when we the info is confirmed.