In June 1998 the French editor Vents d'Ouest released the first volume in a series which would unlock the René Goscinny archives: "Les archives Goscinny : Le journal Tintin, 1956-1961". As the title explains the book gives you an insight in the work Goscinny did for the Tintin Journal in the period 1956-1961. As many know Goscinny also worked on the scenarios for Monsieur Tric/Troc, but not many know this book, so let's show you what you are missing…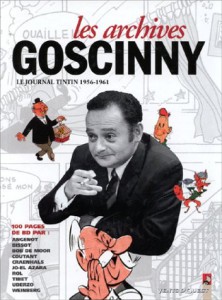 First of all, René Goscinny was an extremely busy bee when it comes to writing gag loaded scenarios. Next to Bob De Moor's Monsieur Tric/Troc (for which he created 9 gags), Goscinny also created scenarios for Oumpah Pah, Spaghetti & Strapontin, Modeste & Pompon  for the weekly thus providing work for such comic artists as Uderzo, Tibet and many other collaborators (Angenot, Jo-El Azara, Bissot, Weinberg, Craenhals, Coutant). And for many of these stories this book represents the first ever publication in book format. Interesting for Bob De Moor fans is that the book holds all the stories in their original Tintin Journal colouring which gives you that good authentic feeling (full colour, black and white, black and white with red as supporting colour).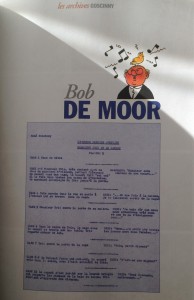 The reproductions of the original Bob De Moor pages in the book are preceded by a scanned document (see the left image), the first page of a scenario which Goscinny completed for the "Monsieur Tric et le Canari" gag which was published in the Belgian Tintin Journal n° 34/58 from 20 August 1958. It would be the last scenario he wrote for Bob De Moor. The document shows how well-prepared the scenarios were which he delivered to the comic authors. For the "Monsieur Tric et le Canari" as shown in this book he describes very well what happens in each frame so that Bob De Moor only needed to worry about the drawing.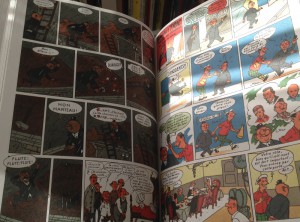 In short, if you don't have this french language book in your collection, then it's high time to get it! The 122 pages book comes in a hardcover and is available for only 14,50 € from Amazon France
. The other volumes can also be bought from Amazon France