On April 11, 1946 the weekly lifestyle magazine Zondagsvriend would published a story called "Een dolle weddenschap" (English for "A foolish bet") featuring a cowboy who accepts the challenge to jump out of a balloon with a parachute. The drawing there indicated that Bob De Moor was very familiar with drawing cowboys. Not very surprising because one of the earliest conserved drawings from Bob De Moor shows a shooting cowboy. In the archives of the family De Moor more drawings like these can be found and today we'll show you 1 of these.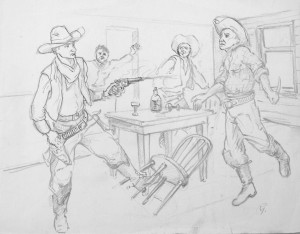 The partially inked drawing probably dates from 1941, like many of the other cowboy drawings in the archives. You can see a very cinematographic scene taking place in a bar where a cowboy shoots an opponent who has a knife in his left hand. Two other cowboys can be seen in the background. The way the 1st cowboy is positioned can be found back in other drawings De Moor made around that time, so it's probably a favourite one but also a very difficult one (the number of not so well succeeded test drawings preceding this drawing indicate so).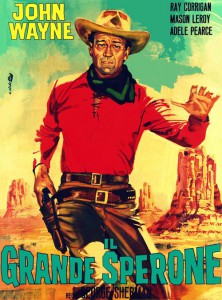 It's our guess that De Moor based the character in this second drawing on film star John Wayne. Not only does the shooting cowboy's face look like Wayne, but you can also see some similarities with a poster from "Wyoming Outlaw" (a 1939 American 'Three Mesquiteers' Western film), and more precisely from the Italian version of the film, "Il grande sperone". John Wayne's character Stony Brooke has exactly the same belt position on this poster, which is a painting based on a frame in the film, and also wears his scarf the same way like De Moor's character.
It's far from surprising that John Wayne is being depicted in some of De Moor's drawings. Before the war De Moor had often been to the cinema watching all kind of films (including of course also pirate and cowboy films). Before World War II Antwerp had more than 40 cinemas that showed all kind of films.
Not surprisingly De Moor was still thinking about those great films when he was 15-16 years old in 1941, because what was shown in the cinemas during the German occupation wasn't really his cup of tea: films about Wolfgang Amadeus Mozart, Richard Wagner and other Aryan characters featuring such German artists as Zarah Leander, Ilse Werner, Marika Rökk, Heinrich George and Hans Moser. For the young Bob De Moor a film like "Wyoming Outlaw" was way more adventurous. Here's the trailer for the 1939 film: