Bob De Moor is know for having drawn a lot of drawings on all kind of documents. Today we present you a Studios Hergé document which was recently auctioned for a little more than 350 Euro if memory serves me right.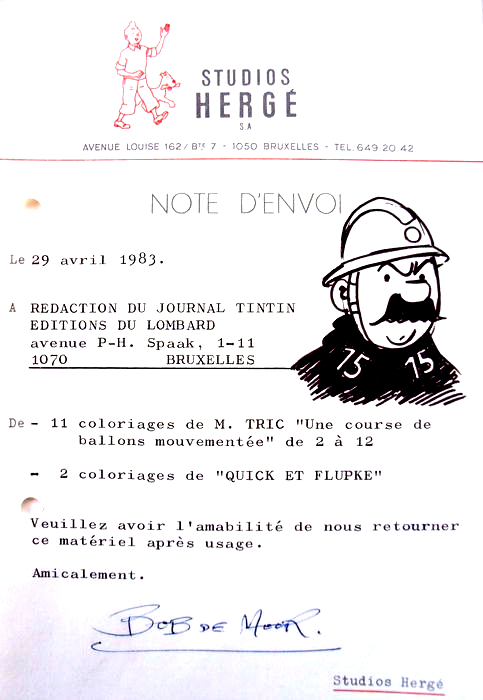 The document is actually a memo which was used by Bob De Moor to clarify that he had sent 11 coloured pages in the Monsieur Tric series to the Tintin Journal offices situated at the Editions Du Lombard. The pages sent were for the story "Une course de ballon mouvementée", which was originally published in 1955 but re-published in colour in 1983 (the print was done in a very poor way we must say, it's a mystery how that ever left the pressing plant to begin with, but more on that later).
Also included in the memo was the information that 2 coloured Quick & Flupke pages were shipped off to the Tintin Journal offices. The letter dates from 29 April 1983, about 2 months after Hergé succumbed (3 March 1983), which shows the studio was at that time still functional and producing (new) material.
But Bob De Moor fans are of course mostly interested in the quick drawing Bob De Moor added on the memo, namely one of Officer No. 15 (Agent Nr. 15 in French) which you must know from the Quick & Flupke series. Like said earlier, De Moor did a lot of these drawings on documents he sent off to the Tintin Journal offices featuring a set of characters, from Blake & Mortimer to Tintin. It kinda shows that De Moor was really enjoying his job, a job which a few years later he'd be forced to quit when the studios disbanded in 1987 and transformed into the Hergé Foundation.
But for the time being, Bob (and Johan) De Moor was still unaware of the enormous storm which would break out…