In the past few months we have described several paintings which Bob De Moor painted in 1947 such as the smoking kid, a still life and a winter landscape. Today we show you a watercolour painting which we discovered in the archives of Ludo Van Looveren, a nephew of Bob De Moor, and son of John Van Looveren (Artec Studios). The painting represents a wooden windmill and both the signature (it's identical to 1947 paintings which had a signature and date added) and colour use put this painting in 1947.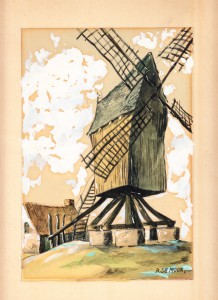 Although this is not exactly the best painting which Bob De Moor made, it showcases how the then 22-year old Bob De Moor is testing his craftsmanship. Unlike the winter landscape painting which he carefully completed, this windmill painting looks more like hasty work. You can for instance clearly see the original pencil drawings and a not so meticulous colouring of the whole. However, as a time document this painting certainly has its merits.
In the next days we will also present you yet another painting which a private collector reported to us just a few days ago.