In "Bob de Moor. 40 ans de bandes dessinées, 35 ans aux côtés d'Hergé
" you could read that Bob De Moor was part of the Zazou movement in the early 40s in Antwerp, Belgium. Today we show you a drawing which Bob De Moor made in 1945. For those who have read Ronald Grossey's book "Bob De Moor – De Klare Lijn en de Golven
", you might recognise it as it is featured (in small) in the photo addendum.
The Zazous originated as a jazz related subculture in France during World War II. The Zazous were young people wearing big or garish clothing (similar to the Zoot suit fashion in America a few years before) and dancing to swing jazz and bebop. Men wore large striped lumber jackets, while women wore short skirts, striped stockings and heavy shoes, and often carried umbrellas. But it was also a politically inspired movement as it reacted against the ultra-conservative morality of the Vichy regime, which collaborated with the Nazi occupiers. The Zazous even went so far to even organise dance competitions against soldiers from the occupying forces.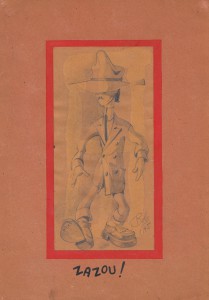 The Zazous were numbered in the hundreds rather than thousands and were generally between 17 and 20. There were Zazous from all classes, races, and both sexes but with apparently similar outlooks. There were also German Zazous, but they were heavily persecuted. The Hamburg and Berlin based Swingjugend for instance had many of their followers imprisoned in concentration camps, while many of the Cologne based Edelweiss Pirates were hanged by the Nazis.
The Zazou movement soon entered Belgium and caught on in Antwerp, Brussels, Liège, Ghent and Ostend. Not surprising they also got into trouble with collaborating youth movements – such as de Dietsche Militie/ Zwarte Brigade – which would for instance attack a concert of Belgian swing bandleader Jean Omer in Antwerp. Bob De moor was present at that concert and lost one of his Zazou styled shoes. Surprisingly enough the German Nazi occupiers invited Omer to record the jazz standard "Stardust"  for the German Telefunken company.
The Zazous were also not so well regarded by the more 'intellectual' part of the cultural scene during World War 2. The people behind the poetry magazine Podium, especially Gerard van Elden, for instance considered the Zazous to be worthless when it came to culture. Nevertheless Bob De Moor soon joined the movement, attracted by the jazz DNA of the movement and most probably also the anglophile attitude.
In the drawing – made in 1945 – we present you today, you can see a man wearing a large hat, a lumber jacket, narrow trousers and tie with high shirt collars. He is also wearing thick-soled shoes, with white (?) socks. A moustache and greased long hairs complete the picture.
So far the background on this period in De Moor's life during World War 2.