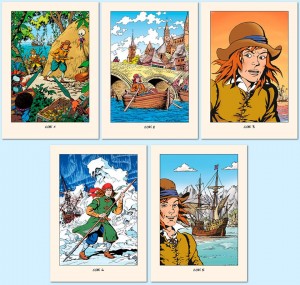 The entire Cori le Moussaillon collection by Bob de Moor will be re-released by BD Must. Not such a surprise as BD Must have already shown with their Barelli and Tric collection that they have more than a just a bit of affinity with the work of de Moor.
So what can you expect: the full 5 albums (including the first volume in the original 62 pages version from 1951 & in colour !) + a dossier of 24 pages "Récits de mer" including 3 stories which previously never were released in an album format. Also included in the packet – which will be yours for 99 Euros – are 5 numbered ex-libris (see the picture attached).
Only 1000 copies will be made of these.
Releasedate: out now
The albums will be available in French but also in Dutch and German. Note that the Dutch and French version will not have the dossier and the ex-libris, but instead will have a certificat signed by the de Moor family!
Check the complete info at http://www.bdmust.be/djp_cori.htm .