In 1975 issue 3 of the magazine Stripklub Nieuwsblad (one of the many publications by Karel Driesen) dedicated 7 of its 16 pages (yes, it indeed was really a very small magazine) to Bob De Moor. But it must be said that these pages did include quite a lot of material which you will never find elsewhere. The cartoon we show you today was one of 2 printed on page 11 of this magazine. Thanks to Luc Demeulenaere for providing the publication. Today we present you this cartoon originally created in (or before?) 1975 1968 and first published in the Laurel et Hardy magazine from that year (thanks to Olivier Marin for this correction).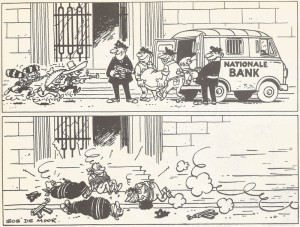 The drawing style of this cartoon clearly reminds of the more nonsense style he used for Balthazar and if it weren't for some elements, many would not even recognize it as being a Bob De Moor cartoon. However, the typical curled line behind the running kids is a clear indication we have a clear line cartoonist at work with his graphical roots embedded in the Hergé style. The only conclusion you could draw around that time was it had to be a Bob De Moor (and it being signed helps too of course). The cartoon presumably was used during a cartoon exhibitions at the Belgian coast, we guess at the Cartoonfestival Knokke Heist, though we aren't sure (if you have more information on this cartoon, let us know).
Interesting detail, the magazine also features material from Leo Fabri (Marjolijn, Mirmoeff), according to Bob De Moor the best Flemish comic artist around that time. The name Leo Fabri, or at least his work, will ring a bell with many Flemish readers as his drawings and cartoons were omnipresent in the De Standaard / Het Nieuwsblad / De Gentenaar newspapers from 1968 till late in the 80s. His style is quite a refined one and very much influenced by the 60s and 70s 'flower power' way of drawing. One of those artists which don't get enough attention truth to be told.