In 1977 Brabantia Nostra would release a 248 pages counting book titled "Het Beeldverhaal in Vlaanderen" by CISO founder and editor Danny De Laet. The cover of this book was drawn by Bob De Moor en shows Monsieur Tric (Troc) leaning on a globe with several comic strips on it plus the onomatopoeias as used in comics. If you are into details, you might also recognise the prehistorian dimorphodon, which was one Franquin used here and there (did Bob De Moor wanted to refer to Franquin there? Who knows). It also has 2 planets on the left.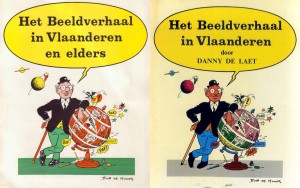 But not many know that this drawing actually dates from 1969 when it was used for the first time as a cover for a catalogue (titled "Het Beeldverhaal in Vlaanderens en Elders") of an exhibition by the Museum of for Flemish Cultural Life (Museum voor het Vlaamse Culuurleven) in Antwerp, Belgium. The exibition ran from March 1 1969 until April 1 1969. The catalogue itself included illustrations by Marc Sleen, Jean-Pol, G. Van Raemdonck, Pink, Buth, Jan Waterschoot, Willy Vandersteen, W. Dolphyn, E. Ryssack, R. Demoen, J. Broeckx, Berck, Jef Nys, Leo Fabri, Van Nerum, Kabou, K. Biddeloo, Rik, Marie Brouyère, Gray, Dani Dacquin, G. Declercq, Erik, Constant Haay, Jarga Van Krell, A. Panis, Ever, Grapjos, H. Leemans, Hugoké, Jo-El Azara, Bob Mau, Merho, Sylvain, Pom, Arle, Ludy Sels, M. Steurbaut, Piet Tibos, Vance, Roderyck, etc..The text were, just like the book "Het Beeldverhaal in Vlaanderen", written by Danny De Laet.
There are several colour differences you can see between both covers. The "Het Beeldverhaal in Vlaanderens en Elders" shows a globe which is coloured in orange, with Monsieur Tric's pants being in green just like the floor, his collar vest is yellow, also the planets are in yellow with a red rocket circling one of it. Also all of the onomatopoeias are in a yellow balloon. And let's not forget the yellow pencil and rubber on the floor.
Too much yellow and that must also have been what Danny De last though because for the 1977 cover version of "Het Beeldverhaal in Vlaanderen", almost all the colours changed. The globe got 3 different colours (pink, blue and yellow) with the standard of the globe getting a blue and dark brown colour. Monsieur Tric's pants are now blue and his collar vest becomes orange. The floor gets a grey colour and the planets turn blue (with a yellow disc) and red (with a blue rocket circling it). All of the onomatopoeias are now added in text ballon each in different colour. The pencil on the floor becomes blue and the rubbers turns into green.
We have posted both versions so you see the difference.