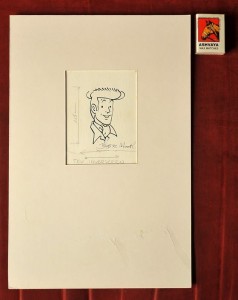 Original drawing by Bob de Moor of Barelli with indications in dutch for the printer ("Tek inverseren" dutch for "Invert the drawing"). The height of the 'Barelli logo' is 115 mm as indicated by de Moor himself.
Notice that this is almost the same drawing like you will find on the Barelli albums released in the 70s and of course on those released in 2011 by BD Must: Barelli – intégrale [pack]
. We say 'almost' because the sleeves of the (white) shirt are not drawn here unlike on the 'médaillon' used for the albums.
The size of this drawing is indicated with the match box next to it. It was on auction recently.