Between 1955 and 1958 Raymond Leblanc's Belvision studios worked on several animation adaptations of some of Willy Vandersteen's Spike and Suzy albums (that's English for'Suske en Wiske' for those wondering) for the Flemish television NIR. Included were "Het Spaanse spook" ("The Spanish Spook"), "De bronzen sleutel" ("The Bronze Key"), "De gezanten van Mars" ("The Martian Ambassadors") – of which an excerpt in Dutch can be watched below – and so on. If you'd watch those animation films you surely would notice that the animation was very rudimentary. It was a far cry from what American and Japanese studios were producing at that time. Then again, both Jos Marissen and Karel Van Milleghem – the only 2 people working on those animations at Belvision at that time – had never made animation films before. It would only be after the arrival of Flemish animation pioneer Ray Goossens (and old colleague of Bob De Moor at the AFIM studios remember) that Belvision would really grasp the technique.
Here's a part of the Dutch spoken animation version of "De gezanten van Mars" by Belvision as made in 1956.
Despite its shortcomings the series proved to be successful in Flanders and Leblanc started dreaming…
It weren't only Vandersteen's albums which Leblanc wanted to see produced this way. He also wanted to convince Hergé that this was a very good medium for Tintin. So in 1957, after experimenting with Vandersteen's oeuvre, Leblanc found the time fit to ask Hergé if he pretty please could use Tintin as well. He gets a deal secured with the French speaking Belgian television RTF for two films each consisting of 7 to 8 episodes of 13 to 14 minutes. In black and white of course. The 2 stories chosen were "King Ottokar's Sceptre" (8 episodes broadcasted in 1957 and 1958) and "The Broken Ear" (7 episodes broadcasted in 1959).
Hergé, little confident of the outcome, asked Bob De Moor to supervise the project so that at least the drawings would be correct. So Bob De Moor made the drawings after which the animators could work with the material given. But it stayed very rudimentary as far as the animation was concerned of course – it wasn't real animation after all. The RTF was far from being impressed by the Belvision work and decided not to renew the contract.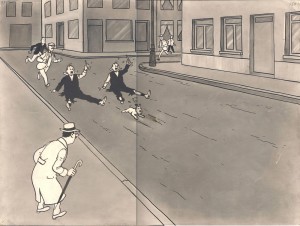 Now, this afternoon, Alain Demaret sent us one of the decors (30cm x 40cm) used for "King Ottokar's Sceptre" accompanied by a certificate issued by the CBEBD or the Chambre Belge des Experts en Bandes Dessinées, roughly translated, the Belgian Chamber of Experts of Comics. Yes, this actually is an existing organization, started in 1981. The letter written by the CBEBD holds several errors (experts you said?). For instance, the animation film was made in 1957 (and not in 1953 as the certificate claims) and it was not commissioned for the BRT (which was NIR at that time anyhow) but for the RTF. You can see the letter on the left.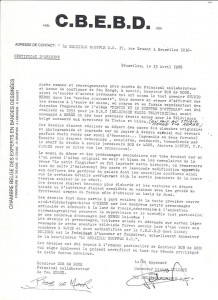 The letter also says that besides Bob De Moor, also Jacques Martin and Edgar P Jacobs have worked on these drawings, which doesn't seem to be correct according to Belvision's own archives. Only Bob De Moor was commissioned by Hergé to work on these drawings. However, the letter was signed by Bob De Moor who this way seemed to okay the content of the letter.
But we know that this letter was signed in such conditions at the Restaurant "Les Armes de Bruxelles" in 1988, which made it impossible for Bob De Moor to have read this document properly. He added one correction ("En fait au studio Hergé via Hergé") but as the people from Brussels say, he was asked to sign this letter 'en stoemelings'. A rather weird way to work in order to get a certificate wouldn't you say Thomson?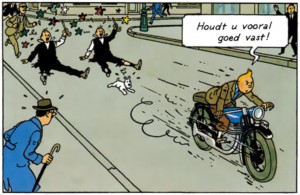 In short, we are quite sure he didn't read the whole document very attentively when he was asked to sign it. So the content in there can not be taken seriously (it's full of errors anyhow), but nevertheless what is pretty sure is that the decor we offer you here is most probably by the hand of Bob De Moor. It shows the last frame from page 13 of the "King Ottokar's Sceptre" (color edition that is). As you can see, the decor does not hold Tintin on the motorbike as you can see on the left, that is because that was part of the 'moving parts' in the animation as produced by Belvision at that time.
Here are some more stills from that particular Belvision animation film (via dessins-animes.com).
We advise you all to get hold of this must-have book to know all the details of Belvision: Belvision – "Le Hollywood européen du dessin animé"
. Recommended reading!