If you can now find the Barelli, Monsieur Tric or Cori albums in excellent hardcover editions, then that is largely due to the small Belgian editor BD Must éditions who took it upon themselves to start reissuing the work from Bob de Moor. Since 2001 the Brussels based editor has been releasing limited deluxe albums including work from a variety of artists. After the 8 albums from Barelli in 2011, the 5 albums from Monsieur Tric in 2012, we are now served the 5 albums from Cori (aka 'Cori, the cabin boy'), again in hardcover.  The albums are available in french, dutch and german. Note that the french version has an extra dossier "Récits de mer" (featuring 3 stories which were previous unreleased in album format) and 5 ex-libris prints. The dutch and german versions have a certificate signed by the family de Moor.
You can order this package from BD Must (all 3 languages).
We had a chat with Jean-Michel Boxus from BD Must on the occasion of the reissue of the 5 Cori albums.
BDM: Where does this passion for the work of Bob de Moor come from? You already released the Barelli and Monsieur Tric series via BD Must so I guess there are some real passionate Bob de Moor fans behind the publisher?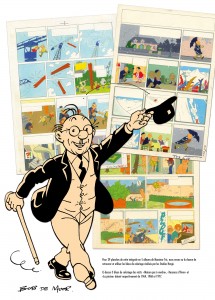 JM: Yes, there are 2 real passionate people behind BD Must who love comics and the clear line. As far as I am concerned, I mostly grew up with comics from the Tintin Journal signature (the Brussels school). I learned to read in the Tintin Journal. Back then I remember that a Barelli episode was published in there, "Le Seigneur de Gonobutz", which had left a big impression on me. I discovered Cori a little bit later when I was 12 years old. That series really fascinated me.
BDM: Was it the family de Moor who approached you for these reissues?
JM: The idea came from BD Must but the children of Bob de Moor really welcomed the idea. Without their help this would have been impossible to do.
BDM: Was it easy to get hold of the rights from Casterman (Cori) and Le Lombard (Barelli, Monsieur Tric)?
JM: It was actually, neither Casterman nor Le Lombard had any specific projects in the pipeline with the material. And BD Must had already published a dozen of deluxe editions including the albums of the Franka series, so we were able to show the de Moor family that we had the knowledge and a high quality standard needed.
BDM: What was the source for the reissues?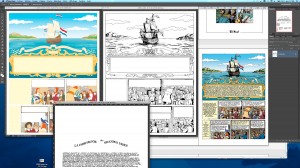 JM: The difficulty was indeed to gather good quality reproduction material. The help from the de Moor family has been precious in this regard. But certain stock conditions caused that a certain number of films got damaged overtime and were sometimes  just no longer usable. A few just couldn't be found back. Each project had its very own technical challenges. For Barelli for instance we could use films which already had been partially digitalized. We however missed the colors for the "Bouddha Boudant" so that album was colored again. Also some stories in the "Barelli mène l'enquête" album had to be colored again.
As far as Monsieur Tric is concerned, there simply weren't any films available. We only had 29 coloring 'blues' from the Studio Hergé (and that on a total of 150 pages…). It really has taken us some detective work to get hold of the old stitched albums in black and white, and to trace back all the Tintin issues (or the dutch Kuifje as BD Must published them in Dutch and French) with the gags of Monsieur Tric. All has been scanned, cleaned out and colored.
Certain collectors have also helped a great deal; one of them even offered me Monsieur Tric pages which had never been published before.
As for Cori, only a part of the old films were still usable. We had to complete the coloring for "l'Expédition Maudite" for instance. The biggest work consisted in coloring the first volume, "Sous le Drapeau de la Compagnie". Before that the original 1951 version had only consisted in black & white. That's where Johan de Moor's expertise has been very valuable, especially when it comes to the colors of the ships' flags.
BDM: I understood that you are already working on several other works from Bob de Moor? Can you unveil already something for our readers?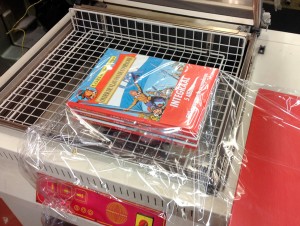 JM: Regarding Bob de Moor, I indeed have some very concrete projects, namely the Flandres Trilogy which consists of the 3 albums "Le Lion des Flandres", "Les gars de Flandre" and "Conrad le Hardi". Next to that there is also the Oncle Zigomar series. I also work on 2 other classics from the Journal Tintin: the "Chevaliers Blancs" series by Liliane and Fred Funcken (12 albums), and the material from "Jari" by Raymond Reding.
BDM: I noticed that you have also entered the german market with Cori, der Schiffsjunge. A calculated risk or…?
JM: Cori, der Schiffsjunge is available now in Germany and Barelli will follow in german in June 2014. We have been working for almost one year already on these publications with a team of german translators specialized in comics. The translator of Barelli (who also translated "Dali Capitan" in german) is a real Bob de Moor fanatic. So it really stays a work of passionate people. It's actually a challenge to translate Barelli because it holds a lot of puns. Certain titles, such as "Bonne mine à la mer", only work well in french, but it's amusing to see how the translators did find solutions.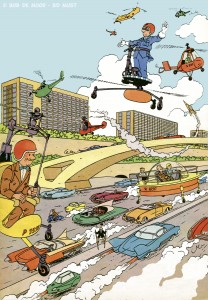 As far as the commercial aspect is concerned, it's a new challenge, but there are some real passionate fans of the clear line (and Bob de Moor) in Germany! The german magazine Reddition for instance published an issue in the summer of 2013 which was entirely dedicated to the Brussels School (Reddition 58 – Brüsseler Schule, Edition Alfons, Verlag Volker Hamann, Barmstedt Juli 2013). We at BD Must offered them a cover by Bob de Moor (for the Monsieur Tric story "Le Dernier Piéton" aka "The Last Pedestrian") which I had restored in order to publish it in the complete 5 album set of Monsieur Tric (editor's note: see the image on the left).