Yesterday one of our readers, Alexander Gawlick, contacted us to inform that the version of 'Tintin and the Lake of Sharks' which was completely inked by Bob De Moor was also published in Germany, namely in the German comic magazine ZACK in 1973 (issues 46-50). ZACK was a German magazine similar to Tintin and Pilote and was published from 1972-1980. It mostly took over the series that appeared in the other 2 magazines and so secured series like Tintin, Michel Vaillant, Dan Cooper etc. of a presence in Teutonia too. It would pop up again in 1999.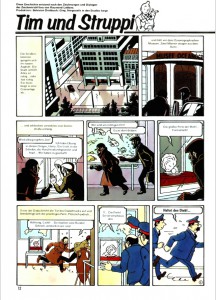 The scan we offer you here has a rather yellowish color use which – as Alexander pointed out to us – might indeed be due to a different printing method and paper. Another thing you will notice is that the text balloons hold printed text and not the manually added text like we could see in the version for Tintin Journal, the Dutch versions from Televisier and Pep, and in the French version as printed in Le Soir and La Patrie.
Although some keep on saying that these colored versions are not official ones (and even claim that there were no publications holding this colored versions – weird, we have some of the magazines in our hands here), this appearance in ZACK proves again that there was indeed an officially sanctioned color version being provided to several magazines for publication. It remains odd that this version popped up in several comic magazines but never saw the light of day in the Tintin Journal (and La Patrie, …) which went for the version as we know it from Casterman albeit with a different lettering. Maybe this was a specific demand by Hergé.
Just in case you have lost track of the various versions, there's the black and white strips as published in Le Soir, the colored version for Pep for instance, the differently lettered version as it appeared in Tintin Journal, the chromo version released by Casterman, and the final version as released by Casterman.
The quest continues.