On March 9 1983 the Flemish satirical weekly De Zwijger (English: The silent one) invited several comic authors for a tribute to Hergé who had passed away the week before on March 3. For the occasion De Zwijger invited such comic authors as Theo van den Boogaard, Luc Zeebroek (which is another nickname for Kamagurka), Jan, Kamagurka, Mark Smeets, Quirit, Luk Vandevijver, Zak, Dirk Stallaert, Evermeulen, Gal, Marc Sleen, Zak and also Bob De Moor. Good to know, Theo van den Boogaard worked out a 4 page story with Quick & Flupke based on drawings by Hergé.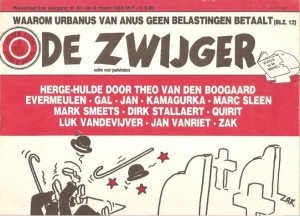 But back to Bob De Moor. Strangely enough he wasn't mentioned on the front of the issue as you can see on the left although a tribute was published on page 7. It must have been an odd reason because most of the other comic authors don't really play in the same league as Bob De Moor.
While we await our copy to arrive to give you a proper scan, we already were sent a first tiny picture, which we have used today.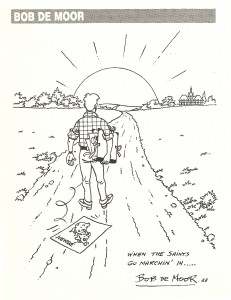 The drawing sees Hergé walking away towards the sun with the Marlinspike Hall (French: Le château de Moulinsart) on the right. A drawing falls out of his art folder, that of Tintin and Snowy. Below on the right you see the sentence "When the Saints Go Marchin' In…" taken from an American gospel hymn. First recorded on May 13, 1938 by jazz musician Louis Armstrong and his Orchestra, the hymn itself expresses the wish to go to Heaven, picturing the saints going in through the Pearly Gates. For that reason it is entirely appropriate for funerals. We have asked the family De Moor to have an insight in the music collection of Bob De Moor and we are pretty sure that the version by Louis Armstrong can be found in there. Unless it's the version which Elvis Presley recorded… we'll update this story when we know more!
Some more info on the weekly De Zwijger, because there's an extra link with the family De Moor. It was launched in 1982 by journalist and publicist Johan Anthierens and Herman van Hove. That very Johan Anthierens would later on translate several Johan De Moor albums into Dutch in a way that no other translator ever succeeded in doing.
The weekly would file for bankruptcy in 1984 after it had published a critical article on Roularta. Bad luck because that publisher happened to be a business partner of the publisher Biblo, which edited… De Zwijger. The move resulted in a loss of sponsors. Add to this the massive workload for Anthierens and the recipe for failure was created. Even though the publisher Kritak accepted to release it after they were dropped from Biblio, it was too late for the weekly which stopped being published in June 1984.
The end also meant the end of a Flemish magazine in the style of Le Canard enchaîné or Charlie Hebdo.
Below is the version by Louis Armstrong.