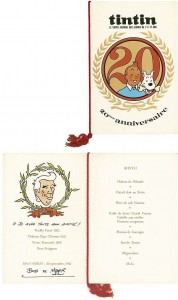 On the occasion of the 20th anniversary of the Tintin journal the whole editorial staff went having dinner at the Brussels based hotel Amigo and this on September 30 1966. For the occasion Bob de Moor designed a pastiche picture of Hergé which was added on the back of the frontpage which held a 20th anniversary drawing of the Tintin Journal. Note the funny 'selfie' doodle in de Moor's signature!
For the cooking fans amongst you, the menu that evening consisted of oysters from Zealand (the westernmost province of the Netherlands), oxtail soup, common sole fillets, haze with cranberries and potato croquettes, a cheese plate, 'Tintin bomb' which most probably is something sweet, small sweets and coffee.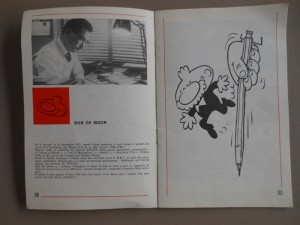 Note that for that occasion of the 20th anniversary a small signing booklet (counting 44 pages) was also released for the general public, featuring the same front as the menu. Included in the booklet was the page on the left from Bob de Moor featuring his more avant garde character Balthazar. Many people had the pages with the drawings signed by the corresponding comic artists.
Included were pages presenting Raymond Leblanc, Dino Attanasio, Edgar P. Jacobs, Hergé, Edouard Aidans, Berck, François Craenhals, Paul Cuvelier, Bob de Moor, Liliane & Fred Funcken, Geri, Jean Graton, Greg, Jacques Martin, Mittei, Tibet, William Vance, Albert Weinberg, etc.