On September 12, 1992 Stefaan De Moor, the youngest of the 5 De Moor/De Belder children, married his girlfriend, Françoise. The wedding took place only 10 days after the funeral of Bob De Moor. Although it might seem a bit odd to have a wedding so soon after burying a father, it was Bob De Moor himself who insisted that the wedding would go ahead as planned. In Ronald Grossey's Bob De Moor biography you can read that Bob De Moor pleaded to go ahead with the wedding because "it's all fun after all" when Françoise visited him in the hospital a few weeks earlier.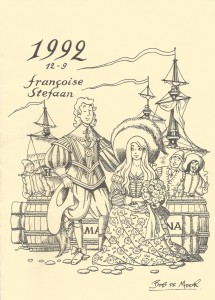 Bob De Moor had even completed a drawing for their wedding, and it's that drawing which we will present you today. It comes out of the collection of the family De Moor and is not that widely spread outside the family circle (although it seems some people took the opportunity to sell their invitation for big money afterwards). The drawing is a classical Cori inspired one with Stefaan and Françoise prominently added in the middle.
The 'Ma' and 'Na' inscription comes from the companies the couple worked for at that time. Stefaan worked for the european division of Mars (known as Masterfoods Europe until the end of 2007) headquartered in Brussels, while François worked for Sabena, the national airline of Belgium which filed for bankruptcy in 2001. But when linked together you also get the word mana, the archaically spelled name for manna, which is an edible substance that, according to the Bible and the Quran, God provided for the Israelites during their travels in the desert.
It probably was a word game by Bob De Moor to refer to Stefaan's job (the food sector) or wishing that the couple would have a fruitful marriage. We'll update this article in the next few hours.
You can also see a medaillon around Stefaan's neck holding an F (Françoise) and an S (Stefaan).