In 1956 the album "De schele zilvervos" (dutch for"The squint-eyed silver fox") by Bob de Moor was released. This 4th album in the 'Nonkel Zigomar, Snoe en Snolleke' series has a peculiar twist in the original cover artwork if you compare it to later editions as we already reported a few months ago.
In the very first artwork (which you can see on the left) you see a fox next to the gunman. In a later version for the Magnum Series reissue that fox would be replaced by a real squint-eyed fox – the animal also appeared as such in the album.
Bob De Moor completely redrew the cover adding more details to the sleigh and to the equipment of both the gunman and Uncle Zigomar. The reason for redrawing the frontcover is clearly the fox who looked a bit out of place in the first version.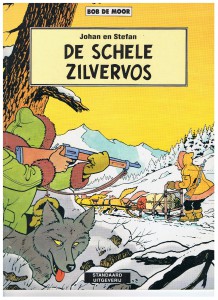 But the later version as released by Standaard Uitgeverij not only saw the dutch tekst rewritten (with less Antwerp-flemish) but also had a new cover. A new one? Many won't have noticed, but if you look closely you see that the cover has been completely redrawn. You can see this when comparing the inking of the Magnum Series version with the Standaard Uitgeverij version.
Nobody else but Johan De Moor inked this new version, holding less 'fat' lines, probably because the original drawing had gone lost or at least was untraceable. You will also notice that for this version the 'Bob De Moor' signature is no longer added on the cover artwork which was already an indication.
It was Olivier Marin who made us aware of this difference (which if you look just quickly isn't really notable); in the future we'll also show you a reproduction of the newly inked plate in the future.