On October 1948 't Kapoentje published the final page of "Willem De Vrijbuiter" (later renamed "Willem Koelbloed" for the publication in De Volksmacht in 1949) which was one of the more realistic stories Bob De Moor would create in his early career and which together with for instance "De Verklikker" (KZV 1949) would form a test platform for his Flemish Trilogy albums.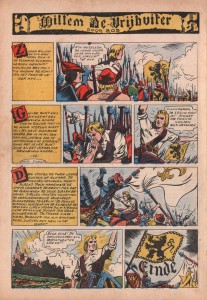 In 1984 Brabantia Nostra would release "Willem Koelbloed" for the first (and last?) time in album format, more precisely in a split album format together with the 1949 story "De Verklikker". Just like the other albums by Brabantia Nostra also this one would only be released in black and white only. Note that also in this case there was no trace of the original drawings since those have since gone lots or have ended up in private collections, unreachable to the bigger public.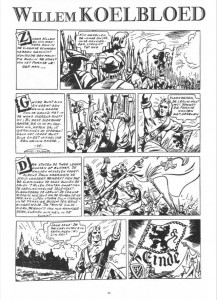 Today you can see the original colour version of the last page of this 1948 story just like it was published in 't Kapoentje some 67 years ago. The scan we took has been slightly altered in order to bring out the colours a bit more clearly but it remains very close to how it was printed. As you can immediately see, the colouring was not exactly perfect on this page as the blue colour was not correctly implemented (unlike the other colours). However, it surely gives this old story that extra touch. Look for instance at the supporting colour used for the text fragments which separates them way better from the other drawings compared to the black and white version. Note also the different heading of the page which is graphically more interesting than the rather boring version of De Volksmacht.
This is again an example of one of those older Bob De Moor stories which would benefit from a reissue in its original coloured version, if only in a limited collector's only run.