A few months ago we wrote that the team behind Brabant Strip had been able to find the original newspaper clippings of the 1954 Snoe and Snolleke story "De zwarte draak" ("The black dragon"). We now can confirm that the re-edition – in its complete version including the 4 missing strips from the Standaard Uitgeverij version – will be released as Fenix 110 by the end of 2015. We'll update asap on what the cover artwork will be based on.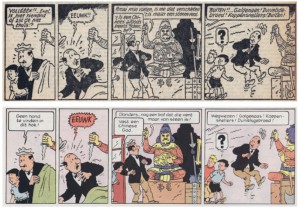 This re-edition is important for many reasons. The original version of this story as published in De Nieuwe Gids (and related newspapers) from 12 October 1953 until 30 January 1954 was in a flemish dutch. That very cosy language got annihilated when the Casterman and Standaard Uitgeverij re-editions replaced it by a dutch which was way too much 'dutchified'. Both editors (and especially their translator) seemed to have forgotten that Snoe and Snolleke were Flemish and not Dutch to start with.
Next, no less than 4 strips were missing in the first album edition. Brabant Strip will edit this album in black & white in its Fenix Collection including the 4 missing strips.
The re-furbished "De zwarte draak" was originally supposed to be published by Casterman in 1989, but in the end it was Standaard Uitgeverij which would edit it in 1993.
We can also confirm that the newspaper clippings from the "Het Geheim van Vulcania", the follow-up album from 1954, have also been retrieved. Also this album will be released in album format via Brabant Strip in 2016.