During the Christmas period following Bob De Moor's death in 1992, his wife Jeanne De Belder sent out a Christmas Card with a drawing De Moor had made in the late 50ies / early 60ies. It's was Luc De Meulenaere who tipped me off on this particular card. While cruising through the archives of the family De Moor one drawing caught my attention, it was the original of the card!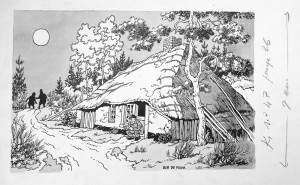 Something that is quite visible when you compare the print version and the final version is the greys used in the original drawing which disappeared in the printed card version, a pity because it gives the original an extra dimension, especially the night sky.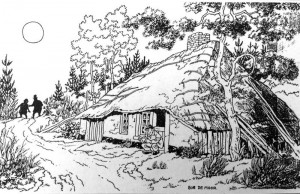 On the right of the drawing you can see a penciled message reading "Ki n° 47 page 26" and under that "<- 9 cm ->". It could be that "Ki" (or is it a badly written "Kj"?), stands for 'Kuifje'. Since we don't have all the Flemish Tintin issues we can't check if that drawing is indeed in one of the number 47s made between 1954 and let's say 1965. If anyone has these issues, feel free to let us know!
The drawings depicts a scene which could have come straight from one of those lovely Robert & Bertrand albums by Willy Vandersteen (although that series only started in 1973). You see an older man (with a beard) reading a book whilst sitting in the entrance of his house.
Diving back in history, the house has a big resemblance with the houses you could find in De Kempen, a region in Belgium and the Netherlands, also called Kempenland or Campine in English, in late 1800, early 1900. Another clue is the Scots pine you see on the right which is a typical tree you can find in De Kempen due to the sandy soil.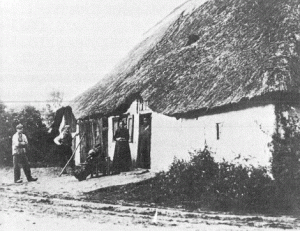 And that I'm probably not far away from the truth shows this picture on the left, which I coincidentally found in a book by Karel van Isacker (not family of me, though he was a professor of my twin brother – also named Karel Van Isacker). The book "Mijn land in de kering 1830-1980. Deel 1: Een ouderwetse wereld 1830-1914" (2008) gives an idea how people lived between 1830 and 1914. And that very picture dates from 1900 from a family living in De Kempen in Belgium.
If anyone has a clue where the drawing was used for in the end, please send an email to bernard.vanisacker@gmail.com .