In 1958 the French edition of the weekly Tintin magazine celebrated its 10th anniversary. Raymond Leblanc wanted to thank his staff and invited them to go out eating in Paris. Place and time was the Ritz Hotel on December 15th, 1958.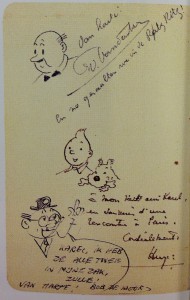 During that diner (of which we will publish some photos in the future) Willy Vandersteen, Hergé and Bob De Moor would make a special thank you card (actually it was the back of the menu) for the Flemish editor-in-chief Karel Van Milleghem (1923-1989), the Flemish wonder boy Raymond Leblanc contracted and who turned the Flemish version of the Tintin magazine into a real success. But Van Milleghem did way more than just that. He also had a leading role in the launch of the Belvision Studio and was the one who also got Leblanc to install a rotating Tintin and Snowy sign on top of the Le Lombard building in Brussels, where it still stands to this date. And the slogan "Le Journal des Jeunes de 7 à 77 Ans", well… that was also Van Milleghem's idea. But Van Milleghem mainly played a very important role in getting first Willy Vandersteen on, and then Bob De Moor introduced to the Tintin magazine staff where both started working soon afterwards. If it weren't for Van Milleghem, Vandersteen and De Moor probably would have remained known only to a Dutch speaking (Flemish) audience.
But back to the drawings by Willy Vandersteen, Hergé and Bob De Moor. You can distinguish the head of the Spike and Suzy character Ambrose, originally called Lambik and once known as Orville, drawn by Willy Vandersteen with the text: "En zo geraakten we in de Rats Ritz". In English that becomes "And so we ended up in trouble, Ritz".  Not clear enough? The play on words shown here only works in Dutch where the word 'rats' means 'trouble'. Under Ambrose we see a Tintin drawn by Hergé and a greeting to Van Milleghem. Bob De Moor apparently was the last one to put a drawing on the card as he refers to the other two with Monsieur Tric saying "Karel, ik heb ze alle twee in mijne zak, zulle!" which means in this context "Karel, I control both of them!".
The drawing popped up in "Willy Vandersteen – De Breugel van het beeldverhaal" the sold-out book by Peter Van Hooydonck.