In 1986 Raymond Leblanc's Tintin magazine existed 40 years. Lots of extra drawings were made that year by Bob De Moor and others to celebrate this event (and we'll get back on this subject later on). But not all drawings were meant for general publication because several comic authors also decided to send personal greetings to Raymond Leblanc. One of those more personal drawings came from Bob De Moor who made a drawing featuring a rather muscled Raymond Leblanc (with a 'Journal Tintin' T-shirt) holding up a 'gymnastic choreography' consisting of Monsieur Tric, Bouboule et Noiraud, Barelli, Balthazar and Cori.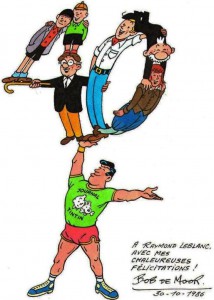 Although Tintin magazine was one of the major publications of the Franco-Belgian comics scene in the first decades after being launched, the 1980s showed a steady decline of popularity of Tintin magazine, with different short-lived attempts to attract a new audience. Nevertheless the magazine would have some important new authors and series launched, including Grzegorz Rosiński, with Thorgal, and Andreas, with Rork. Nevertheless, at the end of 1980, the Belgian edition was cancelled, leaving the French edition remaining.
By 1988 the circulation of the French version had dropped to 100,000. When the contract between the Hergé family and Raymond Leblanc finished, the name was changed to Tintin Reporter. Alain Baran tried to revive the magazine, but that effort disappeared after six months, leaving behind a financial disaster. The circulation of the magazine dropped dramatically, and the publication of the Dutch version Kuifje ceased in 1992. The French version, renamed Hello BD, finally disappeared in 1993.
1986 would be a rather turbulent year for Bob De Moor. He would complete his final year at the Studios Hergé. In 1987 the Studios were disbanded and transformed into the Hergé Foundation, Bob De Moor would settle himself again as independent comic author.
Make sure to also check this 1986 interview with Bob De Moor.
(Thanks to the Jacques Martin forum for the scan)