The Belgian city of Temse (East Flanders) is known as a comic capital thanks to a collaboration between the cultural association Spirit and the local authority. Over the years Temse has celebrated various comic authors such as Willy Vandersteen, Morris, Paul Geerts, Jef Nys, Merho, Karel Biddeloo, POM, Willy Linthout, Hec Leemans, Jeff Broeckx, Jan Bosschaert, Jean-Pol, Jean Graton, Steve Van Bael and of course Bob De Moor. They also specialized in releasing over 20 deluxe editions of comics. So all in all it's not really surprising that the city has played a role in various comic albums. Even its mayor, Luc De Ryck, has appeared in comics (Kiekeboe, Urbanus). Oh, and one of the inhabitants of Temse is actually Hec Leemans, who got international fame with his comics Bakelandt and Nino (as scenario writer).
In 2006 the city of Temse got the OK from the family De Moor to release a special work – that has since become a much sought after item – namely a large format trilogy edition (29,7 x 42 cm) of the 3 stories Bob De Moor situated in the middle ages (and we'll use the Dutch names as these are the ones included in the book): "De Leeuw van Vlaanderen", "De Kerels van Vlaanderen" and "Sterke Jan". The title of the book itself was "Middeleeuwse trilogie over Vlaanderen".
Since the original black & white drawings of these 3 cult albums got lost over time, the first black & white editions of each album were carefully scanned and cleaned out. It needs to be said, the large format really shows the drawings at their best and the quality of the print is excellent.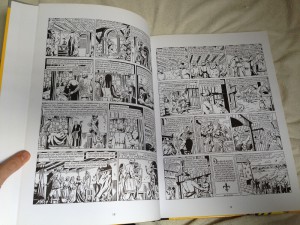 Released by the Temse based publisher Pirrewiet of Bob De Moor fanatic Raoul De Graeve the album was issued on 250 copies: 26 albums with a green velvet cover, 50 red velvet copies for collaborators plus 174 'normal' numbered deluxe editions. It also included an ex-libris of the battle of Groeninghe, in color for the velvet editions, in black (actually more brown) & white for the normal editions. Needless to say that it has become quite difficult to find this album today. Originally sold for € 65, you can now find that book fetching up to € 370 euro on auctions – if you find it that is.
Many Bob De Moor fans we have talked to never knew this item existed let alone it had been released just 8 years ago. With the Bob De Moor website these worries should no longer be a problem as we will keep you very well informed on new releases that are being prepared.