From 1977 (starting on 22/11/1977) to 1978 Bob De Moor saw his reboot of the Cori saga, "L'Invincible Armada – Les Espions de la Reine", published in Nouveau Tintin, Eppo, Junior, … The cover used to announce this brilliant first part of the rebooted Cori saga on the first glance looks exactly the same as the one used for the album version to be published in 1978 by Casterman.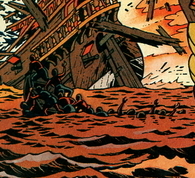 But Bob De Moor changed a detail that not everyone noticed at the time (and still now a lot are not aware of it). He removed the part where several drowning men are trying to hoist themselves in a dinghy.
Geert de Sutter who assisted Bob De Moor for several years explains it as follows to us: "Bob De Moor saw that there was too much happening in that drawing in order to be the ideal cover. An ideal cover is an image that can catch your attention in the blink of an eye: Cori and Harm in the front and the explosion in the background. The drowning men in-between are otiose, redundant and make the image too complicated. This perfect control of the drawing technique serves the atmosphere."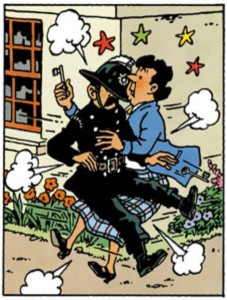 And according to de Sutter, that aspect is visible in every Cori album since "L'Invincible Armada – Les Espions de la Reine": "In the realistic Cori albums there is nothing too much in contrast to the some over the top decorated decors in the 1966 version of "The Black Island". For instance look at the flowers in the background of page 21 where the fire chief bumps into his wife."
Bob De Moor didn't only change the cover. When the story was pre-published in the Dutch magazine Eppo, he also removed a few lines representing vertical reef ropes because those didn't exist when the Armada, the Spanish fleet that sailed against England in 1588, existed.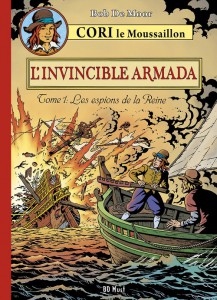 The recently released Cori album set by BD Must holds the corrected version, that is without the drowning men. In case you have not ordered this re-release, you'd better be fast, only 1000 were made. You can still order yours straight from BD Must.
"L'Invincible Armada – Les Espions de la Reine" was welcomed as the comeback or revival of Bob De Moor after years of working for the Studio Hergé and it paved the way for more Cori albums.