On December 14th 1950 the 'timbre Tintin' was launched. This was a kind of gift voucher in the format of a stamp which needed to be cut out and which could be exchanged for products derived from the Tintin Journal such as chromos, wallets, pencils, soaps, stationary, shirts, etc… These stamps were included on products from participating brands. They were an instant succes and boosted the sales of the weekly, the participating brands and also launched the name of Tintin as an established comic. Participating brands included Materne (jam), Victoria (chocolates), etc..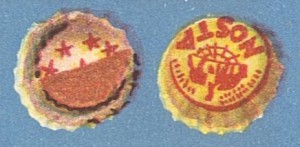 But besides these stamps, the Tintin Journal also pushed kids to collect capsules from bottles (later on the Tintin stamp would be printed on the capsules too). The Opwijk (Belgium) based dairy Nosta did such an action in 1954. Kids had to return 100 capsules – the first got a cup with their name on it – and those who did that before June 30th 1954 won a Tintin Journal subscription for 2 months.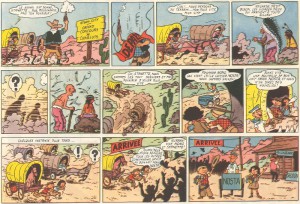 And that's where it gets interesting for Bob De Moor fans because few people will know that Bob De Moor also drew a one page comic for Nosta's promotional campaign in 1954, called "Aventure au Far-West". It was Chris Mouton who sent us a scan of the french written leaflet (it does exist in dutch too, but we haven't been able to trace a copy of that one, yet) holding a cover (also by Bob De Moor), the actual comic and some explanation on the action.
The comic was not signed by Bob De Moor but you will instantly recognize his hand. Although it's not that weird that his name is not added – it was often not added to drawings inside the Tintin Journal anyhow as you can see here and here – you'd expect that a one page comic would have some identification.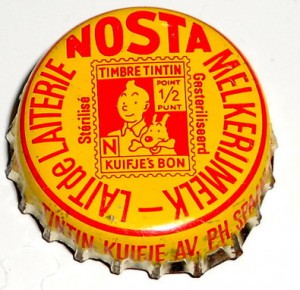 The 3 main characters participating in this one page comic are Nono (a little cowboy) Stanette (a little cowgirl, nothing to see with Danette from Danone) and Rossinante (their horse, but also that of Don Quichotte). The Nosta intrigue is that they end up first in a chariot rally thanks to the fact they have drunk Nosta milk.
The drawing is very well executed and shows De Moor at his best. Although the 2 main characters do not really have typical De Moor faces, you'll notice that the rest of the work on this comic is 100% De Moor and was most probably executed while working for the Tintin Journal.
We are busy trying to find some extra info on this specific campaign and will update the article (or post an extra one – you still haven't seen the cover artwork which is a jewel) as soon as we get it. Of course, if you have this in Dutch or French, feel free to contact us.