In 1959 the Studio Vandersteen was working on getting the first 40 page album released of De Rode Ridder (The Red Knight), namely "Het gebroken zwaard" (The broken Sword). For the title page Vandersteen's publisher Wim Goderis was looking for a vignette, more precisely a vignette with De Rode Ridder (The Red Knight) waving with his sword while being seated on a prancing horse…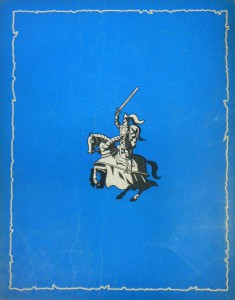 Wim Goderis found his inspiration on the back of the cover of Bob De Moor's "De Leeuw van Vlaanderen" which was published by the Standaard Uitgeverij (the one he worked for) in 1952, a detail which was also documented on page 93 in Ronald Grossey's must-read book "Studio Vandersteen – Kroniek van een legende (1947-1990)".
For the non-Flemish readers, De Rode Ridder (The Red Knight) is probably not all that well-known. It is a Belgian Flemish comic book series set in medieval Europe starring Johan, the Red Knight, easily recognizable by his red tunic. While the first twelve albums gave a general impression of Johan wandering around in medieval Flanders, the later stories would include a lot more different aspects such as the Arthur legend, Bahaal and much more.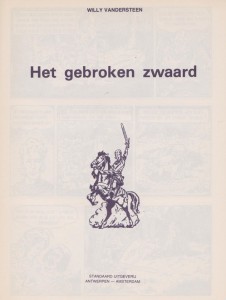 Originally The Red Knight was conceived by Leopold Vermeiren as a character for several short stories he started to write and publish in 1946. Willy Vandersteen wrote the first album with Leopold Vermeiren and Karel Verschuere. Although Vandersteen would continue to write and draw the albums (up until number 44) a lot of the work was already completed by various studio assistants including his son Robert 'Bob' Vandersteen, the previously mentioned Karel Verschuere, Frank Sels, Karel Biddeloo and Eduard de Rop.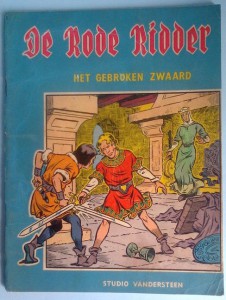 From number 44 on, "Drie huurlingen", Karel Biddeloo would write and draw the stories independently and include science fiction and fantasy elements. After the death of Bideloo, the duo Martin Lodewijk (scenarios) and Claus Scholz (drawings) would continue the series.
Claus Scholz is no stranger to the Flemish comic readers as he was also helping out Hec Leemans on his excellent Bakelandt series from 1986 on.