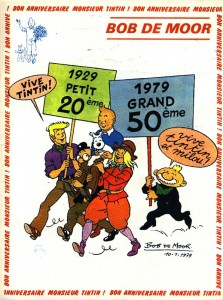 On January 10th 1979 Bob De Moor made a special drawing to celebrate the 50th anniversary of Tintin. Little would he know that the 1976 album "Tintin and the Picaros" would be the last ever completed.
In the drawing you see Bob De Moor's own characters Monsieur Tric and Cori having Tintin on their shoulders while Barelli and Balthazar hold signs up respectively with the texts '1929 Petit 20ème' (referring to the Le Petit Vingtième magazine of course where Tintin appeared in first in 1929) and '1979 Grand 50ème'.
Luc De Meulenaere (husband of Annemie De Moor), who has been very helpful in the past providing us with some rare material, had this to say about this drawing: "This drawing characterizes so well the spirit of Bob, who was more than just Hergé's assistant. It shows his pluralism, his humility, his friendship with Hergé, their complicity, humor and of course his talent." We couldn't have phrased it any better.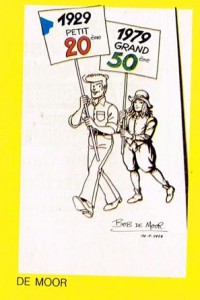 Note that the very same day Bob De Moor also made a different drawing with the same message as you can see on the left.
This drawing got featured in the issue number 12 of Tintin next to 36 other tributes by fellow comic authors. The drawings itself were first presented during an exhibition with some 1000 invitees to celebrate Tintin's 50th anniversary. The drawings measured 2 meters in height. Personally we prefer the first drawing to this one on the left.