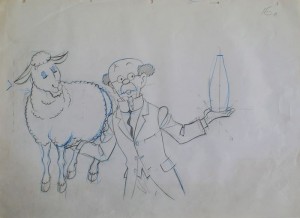 This original storyboard drawing of Professor Calculus is believed to be made by Bob de Moor who was actively involved in the Belgian Belvision Studio output acting as supervisor for the Hergé Studios.
The drawing is part of the storyboard for a television/cinema ad for the Sunflower oil Fruit d'Or. (Good to know for the English readers, Calculus' original French name was "Tournesol" which is the French term for sunflower, hence the relation with the advert.)
In the 1970s and 1980s, he starred in a series of cartoon television commercials for Fruit d'or products which included cooking oil and mayonnaise made from sunflower oil. Some of the ads would conclude with him floating up into the air to demonstrate how they kept a good healthy balance. Other characters from the books were also included.