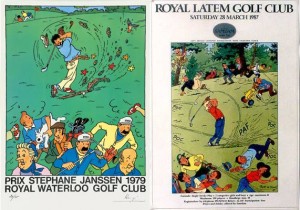 In 1979 Hergé made a poster drawing for the "Prix Stéphane Janssen 1979 Royal Waterloo Golf Club". You'll notice that Stéphane Janssen is also featured in the drawing, namely below on the right (you can see the drawing in crayon of Janssen's head right here, and 2 more studies here and here).
A few years later, in 1987, Bob de Moor was contacted by the Royal Latem Golf Club to create a poster for a tournament taking place on Saturday 28 March 1987. There are only so many ways to make fun of people golfing, yet, there is a striking resemblance between the drawing de Moor made 8 years after Hergé's version for the Royal Waterloo Golf Club. The position and balance in the drawing are quite similar. Note however that where Haddock never succeeded in hitting the bal, in the version from Bob de Moor the ball is hit and goes into real pinball style across the drawing.
Personally we prefer Hergé's version for being that bit more styled whereas Bob de Moor went for the 'brute force' as we say in Dutch.
You'll also recognize some people in the drawing Bob de Moor made, namely Barelli's (girl)friend Anne Nannah on the lower right (again a resemblance with the position of Janssen in the Hergé version) and who we think is Barelli's cop friend inspector Moreau fleeing on the upper right. And we guess that there are more people on the poster from the club too, but the club sadly didn't get back to our request for further info (and a better scan) so we could comment a bit more on this drawing. When we get more info, a new item will be posted.
If you are in possession of the poster and/or better scan, please contact us!