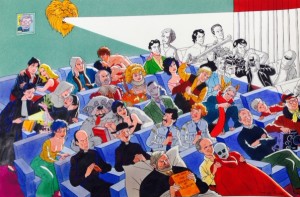 In 1965 the Belgian government decided to start subsidizing the national film production. Numerous Belgian productions were supported with public funds, and Belgian cinema achieved international standing. In 1989 flemish film director Robbe De Hert and co-director Luc Pien investigated this film climate, like a kind of "Janssen and Janssens" (the two famous investigators from Hergé's comic strip Tintin) so they shot the rather amusing documentary "Janssen en Janssens draaien een speelfilm" ("Thomson and Thompson shoot a film") on a scenario by Robbe De Hert, Luc Pien en Rik Stallaert. The documentary featured film fragments and interviews with directors (such as Kümel, Jan Verheyen, Roland Verhaevert and Guido Henderickx), actors (e.g. Co Flower and Romain de Coninck), writers / scenarists (e.g. Ivo Michiels and Hugo Claus) and film critics (Maria Rosseels and Patrick Duynslaeger) to create an image of 25 years of movie-madness in Flanders. The entertaining documentary touch really well the situation of subsidies and the audiovisual policy (problems) on the flemish level. I say entertaining because it does include some funny anecdotes with for instance the sequence where film selection commission president Joz Van Liempt mistakes the former Hungarian football player Laszlo Fazekas with the late German director Rainer Werner Fassbinder. There is a resemblance indeed, check this picture with this one, with Fazekas having a bit less hair than Fassbinder :).
The film entered the cinema in 1990 and got excellent reviews.
But also interesting to know is that Bob de Moor was the one who made the artwork for the filmposter. Robbe De Hert, a notorious Franquin fan, knew the work de Moor did in his early days such as the flemish trilogy "De Kerels Van Vlaanderen"/"Les Gars des Flandres", "Sterke Jan"/"Conrad le Hardi" and "De Leeuw van Vlaanderen"/"Le Lion de Flandre" and asked him if he'd be interested in doing a poster for the film.
It was Hec Leemans who pointed it out to me a week or so ago that Bob de Moor did the artwork. Up until then, I only knew the images that accompanied several artikels on that doc, and that were mostly "Thomson and Thompson" ones and not the actual filmposter. So I contacted Robbe De Hert for some more info. A meeting was arranged and yesterday I went to visit De Hert in Antwerp at the Filmhuis Klappei. While waiting for Robbe De Hert to arrive, Marc, one of the collaborators, provided me a few mint condition posters. I also asked him, if by any chance they would still have the original drawing so I could have a look at it. Much to my surprise he unearthed a big plastic folder containing the original inked and directly colored drawing (62cm x 47cm). First thing I noted was that the colors were actually way more vivid than on the prints made in 1990. I also noticed that the drawing used in the poster was not the complete one (see for instance the Bob de Moor signature which is cut in two). Having the intention to first scan the drawing to have a good copy for this site and the archives, Robbe and I quickly discussed me buying it. Which I did. The drawing will be stored in a bank safe, and will never enter the market.
But before doing that I took as many close-ups of the drawing to give you all as much detail as possible of this very unique document.
The drawing itself reads as a who-is-who in the flemish/belgian film industry and below you'll be able reading and viewing everything in detail. Robbe De Hert helped to complete all the names as we speak of actors who played in films that by now are up to 49 years old.
So here's a run down of all the persons visible in the drawing and a short explanation of what they did. You'll notice links between several of them.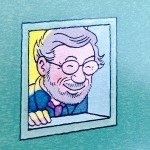 Producer/writer Willem 'De Coiffeur' Thijssen (born 1947) plays the cinema technician. Thijssen directed the films "Badry's Alibi" (2000), "Op de fiets naar Hollywood" (1993), "De droomproducenten" (1984) and "De Toekomst van '36" (1983). He also produced a string of films including but not limited to "Father and Daughter" (2000), "Gaston's War" (1997), "Elixir d'Anvers" (1996), "Jan Cox – a Painter's Odyssey" (1988), the 4 part "Zwaarmoedige verhalen" film series (1975) and so on. But he'll be best known in animation circles for having produced the animation short "Een Griekse tragedie" (1985) by Nicole Van Goethem who won an Academy Award (Oscar) in 1987 for best animation short. But more on that below.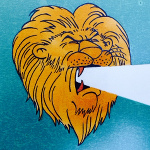 Note that the filmprojector is also a person here, namely a lion, the symbol of Flanders. The flag of Flanders, called the Vlaamse Leeuw ("Flemish Lion") or leeuwenvlag ("Lion flag"), is the flag of the Flemish Community and Flemish Region. The flag was officially adopted by the Raad voor de Nederlandse Cultuurgemeenschap ("Council for the Dutch cultural community") in 1973, and later, in 1985, by its successor, the Flemish Parliament. In 1990, also the coat of arms was adopted as an official symbol. And the lion as Bob de Moor depicted it here seems to do its re-entree as the new official logo now depicts a lion's head.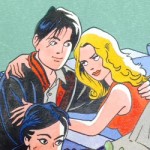 This couple comes from Robbe De Hert's own blockbuster "Blueberry Hill" produced by Marc Punt and Jan Verheyen, directed by Robbe De Hert, in a scenario by Robbe De Hert, Noël Degeling and Walter van den Broeck. The couple consists of Michael Pas (Robin De Hert in the film) and Babette van Veen (Cathy in the film, in real life she is the daughter of dutch musician/singer Herman van Veen). Released in 1989, the film was a huge success winning various prices and even got voted best film of the Benelux. The title of the film refers to the song as released by Glenn Miller and Fats Domino. A follow-up would be released in 1995 under the title "Brylcream Boulevard" aka "Blueberry Hill 2".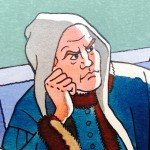 Julien Schoenaerts (1925 – 2006) was a flemish actor, he is considered as one of the biggest actors which Flanders has known after World War 2. This great actor suffered from a bipolar disorder which made family life impossible. He is the father of actor Matthias Schoenaerts ("Rundskop", "De rouille et d'os", …). Schoenaerts debuted in 1955 as leading actor in the film "Meeuwen sterven in de haven" by Roland Verhavert, Ivo Michiels and Rik Kuypers. He would later play the role of Pieter de Coninck in "De Leeuw van Vlaanderen" (1983) directed by Hugo Claus and in 1992 as monseigneur Stillemans in "Daens" directed by Stijn Coninx. But this particular drawing refers to him as being Pieter de Coninck in "De Leeuw van Vlaanderen" (1983).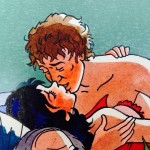 "Mira" is a 1971 Dutch-Belgian drama film directed by Fons Rademakers. It was entered into the 1971 Cannes Film Festival was selected as the Dutch entry for the Best Foreign Language Film at the 44th Academy Awards, but was not accepted as a nominee. It features Willeke van Ammelrooy as Mira and Jan Decleir as Lander, the couple you see snagging here. The story is based on the novel "De teleurgang van den Waterhoek" by Stijn Streuvels. It was re-written in a scenario by Rademakers' usual film scenario writer Hugo Claus and Magda Reypens. In Flanders the film was titled "Mira of de teloorgang van de Waterhoek". "Mira" was one of the first films in Holland/Belgium where nudity could be seen, it created free publicity for the film of course. Willeke van Ammelrooy demanded that the set would be cleared of personnel when she was doing her nude scenes and also demanded that Rademakers would not show any pubic hair. Rademakers ok'd that wish but when the film was premiered van Ammelrooy noticed that the pubic hair was very visible.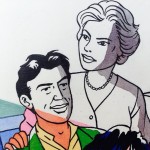 "Wait Until Spring, Bandini" is a 1989 film written and directed by Dominique Deruddere, based upon the novel by John Fante. The film received the André Cavens Award for Best Film and won three Joseph Plateau Awards. The film follows the Bandini family as they struggle through hard times in 1920s Colorado. Unemployed and broke, Svevo Bandini (Joe Mantegna) tries to come up with the money his family needs to make it through the winter, while putting up with his difficult mother-in-law (Renata Vanni), his nervous wife (Ornella Muti), and his two young boys. The couple depicted here is Joe Mantegna and Ornella Muti.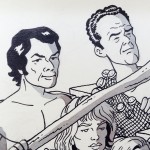 In this duo we recognize Rik Van Steenbergen (1924 – 2003) on the right and Herbert Flack (born 1949) on the left. Rik Van Steenbergen was a Belgian racing cyclist, considered to be one of the best among the great number of successful Belgian cyclists. After his cycling career he entered a rather dark period, which included playing in the Belgian adult movie "Pandore" (1968) as the character Dimitri, which de Moor depicted here. Van Steenbergen also ended up in jail for a while. But his marriage with the British Doreen Hewitt saved him from ruin and he got his life back on track. Next to him sits Flemish actor Herbert Flack who we recognize from such films as "Ad fundum" (1993), "Daens" (1993), "Boys" (1991), "Koko Flanel" (1990), "Hector" (1987), "De Leeuw van Vlaanderen" (1983) and so on. It's our guess that his posture here refers to the 1987 film "Odyssée d'Amour" by Pim De la Parra in which he plays the character of Paul Henkes.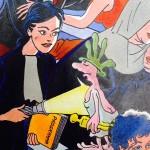 Alexandra Vandernoot holds a torch shining on one of the characters of the "Een Griekse tragedie" (1985) film by Nicole Van Goethem. Notice the golden statue (an Oscar?) it holds in its hands. Vandernoot appeared as a social feeling lawyer opposing to her corrupt husband annex businessman Johan Leysen aka Jan Rijckaert in the 1990 film "Dilemma" directed by Freddy Coppens, written by Freddy Coppens and produced by Willem Thijssen. Note that unable to speak proper dutch, that her voice needed to be dubbed into proper dutch afterwards, which created a very odd effect. She also starred in a number of French films, but her best-known role internationally is as Tessa Noël, Duncan MacLeod's girlfriend, in the fantasy television series "Highlander: The Series".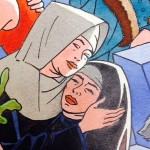 These 2 nuns are Nellie (Nel) Rosiers (born in 1949) and Josina Johanna van Dalsum (1948 – 2009). They played respectively Sabine and Gertrude Arnauld in the 1975 film "Dood van een non" after the 1961 novel written by flemish journalism monument Maria Rosseels. Note that Nellie (Nel) Rosiers would later become the wife of Luc Lotigiers, father of famous singer Helmut Lotti. The role as Sabine Arnauld was her debut as an actrice. Other actors in the film included Janine Bischops, Jo De Meyere, Jules Hamel and Paula Sleyp next to a string of others. The film is about religion and how God seems to be casting a spell on Sabine's life.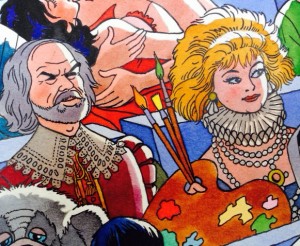 Johan Leysen is a belgian actor who made it internationally. You can for instance see him in "The American" by Anton Corbijn next George Clooney. He started his acting career as – and you can already guess it from the drawing – Rubens in "Rubens, schilder en diplomaat" ("Rubens, painter and diplomate") directed by Roland Verhavert and released in 1977. This historical costume drama is a mini-series on the life of Flemish first-rate Baroque painter Pieter Pauwel Rubens (1577-1640), whose artistic success throughout Europe not only made him a fortune, but also made him an ennobled diplomat for the Spanish Hapsburg rulers of the Southern Low Countries. It further covers his marriages to Isabella Brandt and Hélène Fourment. Also featured in the film is Herbert Flack (see earlier) and Ingrid De Vos (which is the woman Bob de Moor depicted next to Rubens)… Like I said, lots of strings and links here and there.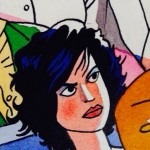 Hilde Van Mieghem (born 1958) is a flemish actrice, author and film director. She combined all 3 in the films "De Kus" (2004) and "De suikerpot"(1997). Up and coming actrice Marie Vinck is her daughter. Van Mieghem played in over 30 films including "Vermist" (2007), "De bloedbruiloft" (2005), "Alias" (2002), "Shades" (1999), "Hombres complicados" (1997), "Sailors don't cry" (1988) and "Vrijdag" (1981). It's our guess that the drawing refers to the role in her first film, "Vrijdag", the theater play (with Kitty Courbois) by Hugo Claus which he also later directed into a film.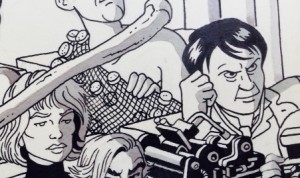 This duo refers to the Robbe De Hert documentary "De Droomproducenten" featuring Edison on the poster (and in this drawing). The woman sitting next to him should be Chantal Akerman (born 1950), a Belgian film director, artist, and professor of film at the City College of New York (she would later return living in France after having completed her first long player "Hotel Monterey"). Akerman's best-known film is "Jeanne Dielman, 23 quai du Commerce, 1080 Bruxelles" (1975) which features Henri Storck as a brothel visitor. We'll see that name popping up again below.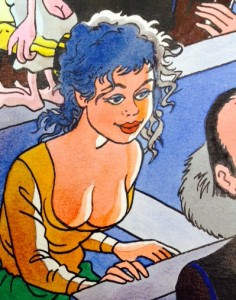 When Robbe De Hert tries to remember the name of this actrice, he says, "you know, the one with those nice tits". Instantly the name of Christel Domen (born 1963) comes to mind of course, we are flemish after all. Most – if not all – Flemish readers will know her also from her work in the TV-series "Klein Londen, Klein Berlijn" (1988) and lots of guest roles in other Television series. The character depicted here is that of Frisine in the 1989 film "Boerenpsalm" by Roland Verhavert. "Boerenpsalm" is based on the 1935 book with the same name by Felix Timmermans. The film itself featured lots of nudity, again making the film quite popular with the flemish public.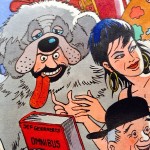 With "Hector" by Stijn Coninx, Urbanus launched himself as an actor. The film was a huge success – and even the the most successful Flemish movie as far as the amount of visitors in Belgian movie theaters is concerned, until 1990 when it was beaten by "Koko Flanel", yet another movie with Stijn Coninx as director and Urbanus as main actor next to Bea Van Der Maat (cuddling Urbanus here), Willeke van Ammelrooy and Herbert Flack. Urbanus, real name Urbain Servranckx, is a Belgian stand-up comedian, actor, singer and comic book writer. In 1983 he launched a comic series with an adolescent version of Urbanus himself as the main character with Willy Linthout making the drawings. Together with Dirk 'the new Bob de Moor' Stallaert he launched the Mieleke Melleke Mol and Plankgas & Plastronneke series more recently. A must for kids (and adults) actually.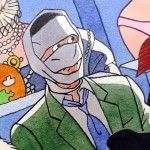 The invisible man? Not really, this is Josse De Pauw from the 1987 film "Crazy Love" by Dominique Deruddere. The film is based on various writings by author and poet Charles Bukowski, in particular "The Copulating Mermaid of Venice, California", which contains necrophilia. The film follows Harry Voss during three important days of his life. The first is as a youth, the second on the day of his high school graduation and the third as a lonely, middle-aged man. Each of the three phases filmed involves a sexual encounter with a "passive" female. In the third part, as an older alcoholic, he and his drunk friend stumble upon a fresh corpse and "steal" it as a joke, only for Harry to find that the dead – but still warm – girl resembles the girl of his childhood dreams. The next morning his friend finds Harry has committed suicide by intentionally walking out to sea with the corpse in his arms, apparently committing suicide after consummating his final desire. On its US release, the film was championed by Madonna, Sean Penn and Francis Ford Coppola. Ultimately it proved too controversial for mass acceptance, and never received wide recognition. Josse De Pauw is a versatile Belgian actor, film director, dramatist, author and columnist. He is married to modern dance performer Fumio Ikeda.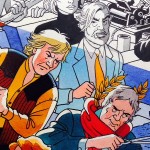 Here we see Jan van Raemdonck trying to hit Hugo Claus with a stick. Both worked together on "Mira", "Pallieter", "Vrijdag" and "De Leeuw van Vlaanderen". This last one, released in 1984), revealed to be a total turd. The film was full of historical errors, the dialogs were considered to be too artificial and some of the effects were quite cheap (the beheading of a knight being the most noticeable one – the head looked like it was made of papier maché which probably was also the case). Is that the reason why van Raemdonck tries to hit Claus? On a side note, you can see that this particular drawing was made in a very Edgar P Jacobs like style. Little would de Moor know that this would not be the style he was allowed to use for the "Mortimer versus Mortimer". You can clearly see here that the result would have been a bit more interesting. Hugo Claus (1929 – 2008) was a leading Belgian author who published under his own name as well as various pseudonyms. Claus' literary contributions spanned the genres of drama, the novel, and poetry; he also left a legacy as a painter and film director. He wrote primarily in Dutch, although he also wrote some poetry in English. His death by euthanasia, which is legal in Belgium, led to considerable controversy.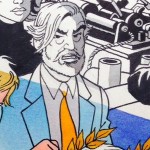 Roland Verhavert (born 1927) is a Belgian film director. He directed 44 films between 1955 and 1993. He co-directed the 1955 film "Seagulls Die in the Harbour", which was entered into the 1956 Cannes Film Festival. His 1974 film "The Conscript" was entered into the 24th Berlin International Film Festival. And… he also directed "Rubens" (see Johan Leysen) and "Boerenpsalm" (see Christel Domen). Other notorious films include the 1973 film "De Loteling", 1975's "Pallieter" (based on the Felix Timmermans novel) and "Brugge, die stille" from 1981 after the book "Bruges-la-Morte" by Georges Rodenbach.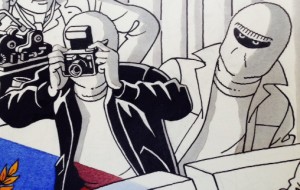 You know Greenpeace? Well, they refused to allow Robbe De Hert to use that name for a radical action group in his movie "Trouble in Paradise" from 1989. So De Hert went for Redpeace instead. The 2 guys you see here are 2 activists of Redpeace with one being actor called Jasper de Moor… The film furthermore featured Beatie Edney, Peter Firth, Freark Smink, Carl Huybrechts, Alexandra Vandernoot (see "Dilemma"), Peter Hoeksema, Sonja Barend and so on. The plot: In the harbor of Rotterdam, an action group called Redpeace discovers illegal weapon transports. Those are executed by shipping-trade Kusters Shipping Company. The discovery is annoying for Ann Kusters, the wife of Erik Kusters. She functions as a translator with the European parliament. It gets even worse when Ann is discovered and photographed while she's having an intimate rendez-vous with a french politician, whose investigating the illegal weapon transports. Short after, the man is found dead.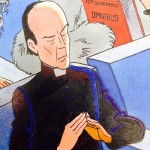 "Het sacrament" is a 1989 Belgian tragicomedy film directed by Belgian author Hugo Claus. The film is based on Claus own novel "Omtrent Deedee" and his play "Interieur". A family has its annual family reunion to commemorate the anniversary of mother's death. People drink and eat heavily and after a while all restrictions are lost. Family members start ventilating old frustrations, discussions and tensions. Eventually one homosexual young man gets depressed and a drama escalates. The priest in the story was played by Frank Aendenboom as Dee Dee, the priest.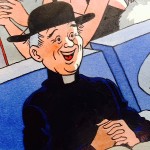 Jef Burm (1923 – 2011) played the priest in the 1989 film "Boerenpsalm". He played in a bunch of series and films including "De Paradijsvogels", "Slisse & Cesar", "Het Pleintje" etc. but it was mostly his acting role as Rietje Rans in the TV-series "De Paradijsvogels" which made his fame and name as we say in dutch. He also played in "Zware Jongens", "Jan zonder Vrees" (the excellent 1984 Belgian animated film by Jef Cassiers also featuring Jan Decleir giving voice to Jan zonder Vrees) and "Blinker en het Bagbag-juweel". Talking about "Zware Jongens", this Robbe De Hert directed film features our next guests…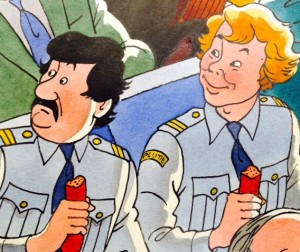 Gaston Berghmans and Leo Martin formed a comic duo called Gaston and Leo which was hugely popular in the 70s and 80s. Next to a few New Year's Eve special broadcasts for the state-owned Belgische Radio- en Televisieomroep (BRT) television network they also made four films together: "De Boot naar Spanje" (1982, directed by Willy Vanduren), "Zware Jongens" (1984) (directed by Robbe De Hert), "Paniekzaaiers" (1986) (directed by Patrick Lebon) and "Gaston en Leo in Hong Kong" (1988) (directed by Paul Cammermans). The duo is shown here in cop clothes from the film "Paniekzaaiers". Robbe De Hert got a small cameo role in the picture, just like director Patrick Lebon and writer Paul Koeck. Leo Martin died in 1993.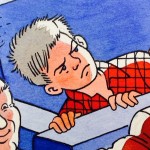 "Whitey", original title "De Witte van Sichem", is a Belgian movie by Robbe De Hert released in 1980. The movie is an adaption of Ernest Claes' novel "De Witte". It stars Eric Clerckx, Willy Vandermeulen, Blanka Heirman, Paul S Jongers, Luc Philips and Paul-Emile Van Royen. It is the second adaption of the book. The other movie was released in 1934 as "De Witte". The title "Whitey" refers to the nickname of the main character: Louis Verheyden, a blond naughty boy of eleven year. There are some differences with the novel. The love story between Heinke and Liza is not in the original story neither Louis' suicide attempt. Louis does not go with his brother on pilgrimage. Instead, he goes with his father to the city to buy a cap for his holy communion. At the end of the book, it is also clear Louis applied with success for a job at the printing establishment of Averbode Abbay. The role of Verheyden is played by Eric Clerckx. He was 15 when he played the role and would continue to play in films such as "Twee vorstinnen en een vorst" (1981), "Zware jongens" (1984), "Blueberry Hill" (1989) and "Brylcream Boulevard" (1995). He now works as an IT-consultant.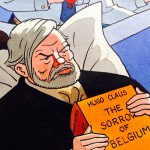 Sitting in his bed is George Orson Welles holding a copy of the Hugo Claus film "The sorrow of Belgium". It's our guess that the Belgian link is a reference to the 1970 Soviet-Italian film "Waterloo" directed by Sergei Bondarchuk and produced by Dino De Laurentiis. It depicts the story of the preliminary events and the Battle of Waterloo (in Belgium). The book "The Sorrow of Belgium" (Dutch: "Het verdriet van België") by Hugo Claus from 1983 tells the story of the childhood and youth of Louis Seynaeve (Claus's alter ego) in the Flemish village of Walle (a part of Kortrijk) from 1939 to 1947, coinciding with the period of the Second World War, the German occupation of Belgium, and its aftermath. But the drawing Bob de Moor made here refers to "Malpertuis" (released in the US as "The Legend of Doom House"), a 1971 Belgian fantasy-horror directed by Harry Kümel, based on the novel of the same name. Playing in the film was Orson Welles as Cassavius (mostly dying in bed) hence why he is depicted here like that.  (Thanks to Hec Leemans for the correct interpretation).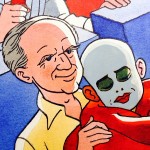 Raoul Servais of course couldn't be left out of this fine company. Raoul Servais (born in 1928) is a Belgian filmmaker/animator. The person he holds in his arms is a Harpy, a winged white bird, larger than an eagle, having a (bald) head and breasts of a woman. The character comes from the 1979 short Belgian animated film "Harpya" written and directed by Raoul Servais. It stars Will Spoor, Fran Waller Zeper as the Harpy and Sjoert Schwibethus. The film won the Palme d'Or for Best Short Film at the 1979 Cannes Film Festival. Another notorious film is "Taxandria" which is a partially animated fantasy film from 1994, based on a book by French writer Alain Robbe-Grillet, and starring, among others, Armin Mueller-Stahl. A reinterpreting graphic novel adaptation of the movie Taxandria was published by François Schuiten and Benoît Peeters one year prior to the film's official release under the title "Souvenirs de l'Eternel Présent: Variation sur le Film Taxandria de Raoul Servais", also including production background informations on the film.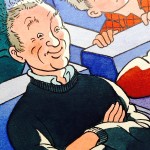 So whose hair is Hugo Claus trimming here? Well, that is André Delvaux. André Delvaux (1926 – 2002) was a Belgian film director and widely regarded as the founder of the Belgian national cinema. And the fact that Claus is trimming his hair is a referral to the 1965 film Delvaux made called "De man die zijn haar kort liet knippen" ("L'homme au crâne rasé"/"The man who let his hair be cut") after the book by Johan Daisnes pseudonym of Flemish author Herman Thiery. So it seems de Moor knew his classics really well with some help from Robbe De Hert. Another film that many Belgians probably have seen is 1968's "Un soir un train" with Yves Montand, Anouk Aimée and François Beukelaers. It was based on the novel "De trein der traagheid", again by Johan Daisne. Daisne was together with Hubert Lampo one of the pioneers of magic realism in the Dutch language writing with his novels.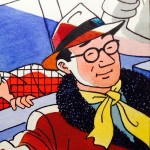 And finally, we have Henri Storck (1907 – 1999) who was a Belgian author, filmmaker and documentarist. After a series of short films, including "Une idylle à la plage" (1932) featuring James Ensor, Félix Labisse and Leon Spilliaert, in 1933, he would direct, with Joris Ivens, "Misère au Borinage", a famous film about the miners in the Borinage area. Several other movies followed. During World War 2 he made some 'wrong' decisions including that of working for the german filmdistributor Tobis Brussels, and making what could be called now propaganda films for a collaborating agricultural corporation. After the war he would work on art films on Paul Delvaux, Permeke, Félix Labisse and Rubens.
After going through the drawing, I also asked Robbe De Hert some more info on the aborted "Bakelandt" film based on the comic series by Hec Leemans. De Hert planned to shoot his part on the brigands but aborted the project after disagreements with a fellow director. In further comic adaptation news, De Hert had also planned to film the classic Spike and Suzy story "Het Spaanse Spook" ("The Spanish Phantom") but the Vandersteen familie didn't think it a good idea and aborted the mission so to speak. "Too bad", says De Hert, "it could be made into a film for sure and it would have made a great film…"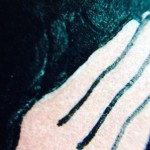 With the drawing on the tabel in my house I was able to check it in further details and I noticed something that you can only see when you have the original in your hands. If you look closely you can see that originally Bob de Moor had included the thumbs of priest Deedee on the drawing, but although inked, he later colored it black. You can see a closeup on the left where the detail has been enhanced. I also discovered some half wiped out crayon drawings of de Moor checking on positions of fingers.